Mighty Jets Take Subtle Dig At Victor Obinna, Olaitan & Sunday Mba As Amutu Donates To Club
Published: June 15, 2016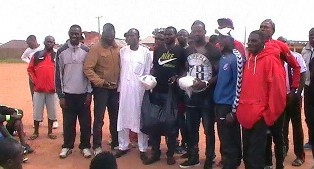 Israeli-based striker Augustine Amutu paid Mighty Jets FC of Jos a surprise visit today (Wednesday 15th June) and donated about 100 pieces of customized balls as well as an undisclosed amount of money to encourage the main squad as well as the feeder team for role the team played in moulding him into a better footballer.
Amutu, who came to the team's mobile Police training pitch this morning with the items and cash gift, also gave the supporters club some money.
Reacting to the presents, Technical Adviser of the team, Baldwin Bazuaye, prayed for long life and better clubs for the player as his career lasts.
The Club's Director of Administration, Nasiru Rabiu, in his own reaction said he was surprised that a player who has not spent up to a year overseas is remembering where he started from while lot of other more successful players have found it difficult to come back to say hello to the team.
Former West Ham star Victor Obinna, Olympiakos striker Michael Olaitan and Super Eagles midfielder Sunday Mba, to name a few, represented Mighty Jets before they moved abroad in search of the proverbial Golden Fleece.
He prayed for the success of Amutu and urged other former players of the club to emulate Amutu by coming over to see how they are faring from time to time, particularly those ones playing top flight football in the Nigeria Professional Football League, NPFL, and those playing overseas.
The captain of the team also on behalf of the players thanked Amutu and prayed for him to experience a long and fruitful career.
Meanwhile, Mighty Jets are preparing assiduously ahead of their Nigeria National League Match-day four fixture against visiting Yarma Light of Gombe at the Rwang Pam Stadium on Sunday.
The team who now have four points in three games are now training twice daily.
Ferdinand Mbum