Victor Moses Reveals The Number Of Boots He'll Wear This Season
Published: November 24, 2017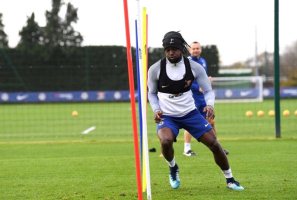 Nigeria Player of the Year Victor Moses in an interview with the
official website of Chelsea
has revealed the number of boots he wears every season.
The Blues number fifteen is in the running to be named the African Footballer of the Year by CAF and BBC after a remarkable 2016-2017 season.
''Eight or nine. I wear them in training first to make sure they're alright, and then wear them in a game,'' Moses replied when asked how many pairs of boots he gets through in a season.
The Super Eagles star says he reports for training at Cobham early : ''Normally I come in a bit early, around 8.30am. I have my breakfast and go and get my massage.
''I spend a lot of time there to get the muscles going. After that, I just relax really and watch TV before training.''
Having missed the trip to Baku earlier in the week, Moses may make his anticipated return from injury when Chelsea visit Liverpool on Saturday.
Ifeanyi Emmanuel