Odion Ighalo Interview: Every Word On Super Eagles, South Africa, Revenge, Red-Hot Form, Return To Europe, CSL
Published: October 19, 2018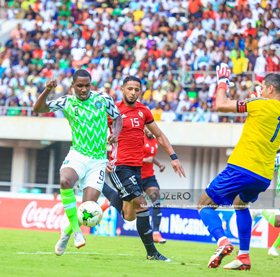 Changchun Yatai star Odion Ighalo is one of the most talked about strikers in the world at the moment after scoring five goals in the space of three days in the recent Africa Cup of Nations qualifiers against Libya.
Ighalo and the Super Eagles have been getting better and better with each game as they bid to qualify for their first Africa Cup of Nations since 2013 and currently top Group E of the qualifiers with nine points.

''We did so well against Libya after we lost against South Africa in the first game for the qualifiers,'' Ighalo told SuperSport's Carol Tshabalala.

''Our aim was to win all the remaining games to qualify for the Africa Cup of Nations because for the last two Cup of Nations, Nigeria have not been there. We are determined now to go to the AFCON.''
Nigeria will qualify for next summer's AFCON in Cameroon if they beat South Africa on November 17 and Ighalo has admitted that revenge is on the mind of the Super Eagles players after losing  2-0 in their opening fixture in June 2017.
''It is going to be a tough game because we want to top the group, we want to go to South Africa, try to win the game.
''We know it is gong to be tough but we are in good shape now, we have what it takes to win the game in South Africa.
''South African side is a good team, they won the first leg 2-0 in Nigeria. I think we are battle ready because we want to go there and try to get our AFCON ticket.

''It is going to be a tough game because they are playing at home and they are are going to come out with everything they have.

''They have a good team but I believe with the form we are now, the way we are going now, we are going to beat them,'' Ighalo stressed.
The former Watford star was heavily criticized by the Super Eagles fans, especially after the game against Argentina at the World Cup, but the rejected stone has become the cornerstone.
Revealing the secret behind his great form for club and country post-World Cup, Ighalo said : ''I have been calm in front of goal, and taking the opportunities.

''After what happened in the World Cup, I let everything go and concentrated more, worked much harder.

''I went back to my club, started scoring and I took the form now to the national team. I am really happy the goals are coming now, hopefully in November against South Africa I'm planning to do the same thing.''

On the possibility of returning to Europe next summer, he said : ''Of course, my dream is to go back to Europe and play again before I end my career.

''We will see after the Nations Cup and see how it goes, now I am enjoying my time in China but if the opportunity comes in Europe, I will grab it with my two hands because everybody knows Europe is the best.

''I am looking forward to that opportunity again, when it comes I am going to take it.''

Finally, the Super Eagles number nine has branded the Chinese Super League a competitive league due to influx of foreign players and expatriate coaches.

''The league is growing everyday, it is very much difficult because a lot of foreign players are coming to China, a lot of foreign coaches are there.

''It is more tactical now, it is more difficult.You know in a team you only have three foreign players that can play in a team, so you have to work extra hard for you to score goals, to do more.

''In China now, I am working more harder than when I was in England because I am the captain of the team.

''I run a lot, I have to do twice as I do in England for me to get a goal, so it's more difficult for me and the work rate is higher than when I was in England,'' Ighalo concluded.

Ifeanyi Emmanuel