Johnnybet Tipsters League
Published: October 26, 2018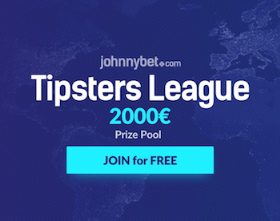 Do you regularly make betting tips and succeed or fancy yourself as an up and coming tipster but do not know where to start?

Free
JohnnyBet Tipsters League
could be just what you are looking for so read on to find out more about this exciting opportunity to win an award from prize pool of €2,000 per month.
What is the JohnnyBet Tipster League?
The JohnnyBet Tipsters League gives you the chance to show off your sports betting knowledge.

It's a thriving community for users who would like to share their tipping skills with others and help them earn money through betting.

The most successful tipsters in the JohnnyBet Tipsters League also get great prizes, so it's a win-win situation for everyone involved. Think of it as a
free to enter tipping competition.

The more successful tips you post for other users, the more points you will earn and the higher up the Tipsters League you will finish.

How to Join the League
Joining the JohnnyBet Tipsters League could not be easier, simply click the link and use the '
Join the Tipsters League
' button.
If you do not have an account with JohnnyBet don't worry, you can join the website for free and in doing so will gain access to many other features on the website.

Within a few clicks you will be up and running, ready to get involved in the JohnnyBet Tipsters League.

The JohnnyBet Tipsters League is open to all users who have registered an account on the website.
You must add your first bet on your profile and complete the result of the event as soon as possible once it has finished.

The prize pool in the competition is €2,000 per month and the prizes are awarded in different categories such as profit, yield, votes of community etc.

Sports Included
You can place a tip on any sport when participating in the JohnnyBet Tipsters League.

So, if you have a good knowledge of tennis you can for that or if you have insider knowledge on the Nigerian soccer league or any soccer league for that matter, you can even add tips for that.

The choice is yours and the variety is one of the many things which makes the JohnnyBet Tipsters League a great betting community.
Ifeanyi Emmanuel