Conflict Brewing Between Nigerien Club Akokana & Moses Simon Over Training Compensation
Published: March 07, 2019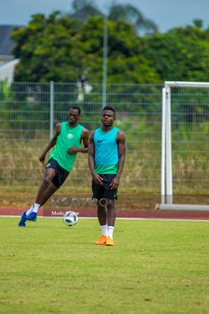 There is a conflict brewing between Nigerien club Akokana FC and Nigeria international Moses Simon over the payment of the winger's training compensation after transferring to AS Trencin and Gent, allnigeriasoccer.com understands.

Fifa's regulations on the status and transfers state : 'training compensation shall be paid to a player's training club(s): (1) when a player signs his first contract as a professional and (2) each time a professional is transferred until the end of the season of his 23rd  birthday'.
Akokana FC had Simon on their books before he signed his first professional contract in Europe with AS Trencin in January 2014.
Now at Levante, whom he joined after celebrating his 23rd birthday, Simon had played for Akokana FC before returning to Nigeria to join Moderate Stars Academy.

In 2013, he signed for Golden Boot Soccer Academy, from where he transferred to AS Trencin.

Moses was acquired by Belgium club Gent for a transfer fee of 650,000 euros in January 2015 and Akokana FC supposed to have been paid a portion of the fee within 30 days he was registered but have been deprived of training compensation.

Ifeanyi Emmanuel