Super Eagles Move Up Four Places In Latest FIFA Rankings; Third Best Team In Africa
Published: April 04, 2019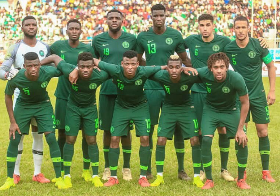 Football governing body, Fifa, on Thursday, April 4 published its latest rankings of National Teams.
The Super Eagles have climbed four places to 42nd in the updated rankings and are now the third best team in Africa on the back of their victories against Seychelles and Egypt in international matches last month.
Senegal are the top ranked African nation, followed by Tunisia, Nigeria, Morocco and Congo Democratic Republic in that order.

Three-time African champions, Nigeria accumulated 1435 points, eight more than their previous tally.

Belgium are first overall, world champions France come in at number two, while Brazil, England and Croatia occupy the third, fourth and fifth position respectively.

The top ten African countries at the moment is as follows :
1) Senegal - 23rd

2) Tunisia - 28th

3) Nigeria - 42nd

4) Morocco - 45th

5) Congo DR - 46th

6) Ghana - 49th

7) Cameroon - 54th

8) Egypt - 57th

9) Burkina Faso - 58th

10) Mali - 65th

Ifeanyi Emmanuel