Christian Chukwu's Ailment: Babalade Warns Current Super Eagles Stars; Sodje Thankful For Recovery
Published: April 11, 2019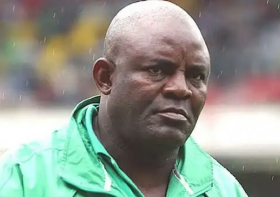 Former Super Eagles defender Ajibade Babalade has admonished current players of the Super Eagles and other Nigeria national teams to be wary of their spending and saving habits in order to be ready for sudden eventualities.
Former Green Eagles captain Christian Chukwu was recently hospitalized for respiratory issue albeit is now in a stable condition.
Babalade while speaking with
allnigeriasoccer.com
spared thoughts for the 1980 AFCON winning hero and the morals from such situations.
"Back in the day we played the game mainly for the passion and patriotism. There was no money like these days.
"Thank God 'chairman' Christian Chukwu is getting well. That is why we advise younger players, especially now in our national teams, to invest wisely.
"They should learn from the mistakes of the older generation, the ex players and they should invest well with the money they're making now," the onetime Shooting Stars of Ibadan defender stressed.
Chukwu who was Nigeria's head coach at the 2004 AFCON in Tunisia received financial assistance from the Enugu State government and the Nigeria Football Federation.
As for Sam Sodje, he simply prayed for Chukwu and praised billionaire business mogul Chief Femi Otedola who also pledged to foot any medical expenses abroad.
"Thank God for Chukwu's life. He's our legend and must be helped. May God also bless men like Chief Otedola for their kindness and philanthropy."
Izuchukwu Okosi
Photo Credit : thenff.com