Tanzania Coach Admits They Are No Match For Nigeria In Youth Football; Players Promised $8,600 & Cars
Published: April 14, 2019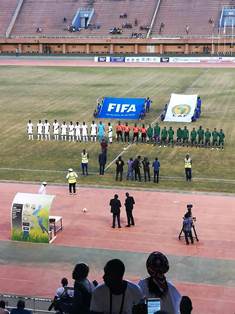 With just few hours to the opening match of the 2019 U17 AFCON, the head coach of the host country Tanzania has boasted that nothing can stop them from winning their first game against Nigeria.
Tanzania who are taking part in the U17 AFCON for the second time in their history, will be up against five-time world champions Nigeria, at the Tanzania National Stadium on Sunday.
Oscar Milambo who will lead out the Serengeti Boys has said that Nigeria's experience at this level means nothing, it is now Tanzania's time to shine and that they are out to make a statement at the AFCON.
''I keep on saying that in this age category there is no experience because you can only play once and you graduate,'' Milambo said at Saturday's pre-match press conference.

''If at all there is experience , it remains for the technical staff and maybe the FA concerned, therefore it is always a new setup.

''In the world ranking and most especially in youth development, we are no match for Nigeria but we are having the same platform to make sure we compete.

''If at all you want to become big, you always have to compete against the best.

''We are very, very optimistic that this is our time and we have been preparing for quite a long time and it's high time we have to make a statement in this particular tournament.''

Meanwhile, Tanzanian business Tycoon Reginald Mengi has reportedly promised to give 20 Million Tanzanian Shillings (equivalent of $ 8,600) and a car to each Tanzania player if they win their first two matches to qualify for the 2019 World Cup in Brazil.

Ifeanyi Emmanuel