'Nwakali Is Everything Mikel Can Do In Super Eagles' - Fans Hail Dream Team No. 10 & Faleye
Published: September 10, 2019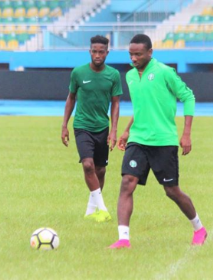 The Dream Team VII will be in Egypt to defend the U23 AFCON title title they won in 2015, thanks to their 5-1 aggregate victory over Sudan.
The Amapakabo's men needed an outright win to book a spot at the next  U23 AFCON competition, and they wasted no time before scoring the first goal of the game.
Liverpool-owned striker Taiwo Awoniyi nodded home the ball in the 10th minute to give his side the lead in front of the home crowd.
Ndifreke Effiong scored a first-half brace to bring the scoreline to 3-0 before the break.
Second half substitute Sunday Faleye also scored in the 66th minute while Sunusi Ibrahim put the icing on the cake with another goal two minutes later.
Though former Arsenal star Kelechi Nwakali didn't score, his performance was one of the major talking points among supporters. Here are some of their comments on Twitter:
@DeMilanGuy_Kaka: " Kelechi nwakali is having a good game..... He should be playing in serie A, he's well tailored for serie A."
@fredokoligwe: "Kelechi Nwakali is bossing the game in Asaba. His nibble feet is a delight to behold. Awoniyi goal the difference 1-0 Nigeria leads #NGRSUN #Olympics"
@10Qmedia: "If there's one player I hope will pick himself up and really kick start his career, it is Kelechi Nwakali. The Super Eagles needs him. #U23AFCONQ"
@OIbitokun: "Who's watching Nig vs Sudan u23 Olympics qualifier? Pls help us tell Gernot Rohr that Kelechi Nwakali is everything Mikel can do in the Super Eagles with extra qualities. That boy is a delight to watch."
@BlessingFowowe: "That 5th goal was all Sunday Faleye. Beautiful move!"
@Tollexrism: "Just to point out. Sunday Faleye is ambidextrous; big reason he was able con the defender sweetly."
@booday10: "Sunday Faleye came off the bench and scored with his first touch on his debut for @Official3SC , he has come off the benchagain to strike Number 4 for the Nigeria U23 team."
@FisayoDairo : "The diagonal by @aazzuu14 Okechukwu to the feet of Sunday Faleye in the buildup to that 5th goal is everything called Class! If you're going to go long, make it exceptionally accurate!"
Ibukun Italoye