IK Start Coach: I Believe And Hope We Keep OWELLO
Published: August 17, 2012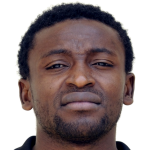 Solomon Owello could be departing IK Start, first division pacesetters, before the close of the transfer window.
This summer, the Canada 2007 Fifa Under 20 World Cup star had attracted interest from Silkeborg, but recently announced he won't be joining the Danish club.
According to leaks gathered by
allnigeriasoccer.com
's Editorial Staff, Owello could be joining Norwegian top division club SK Brann in the coming days.
Coach of IK Start, Mons Ivar Mjelde is unperturbed by news of the imminent exit of Solomon Owello, who has spent four years at Kristiansand.
The gaffer told the online edition of regional newspaper
Fædrelandsvennen, fvn.no : ''
I neither fear or believe that Owello is sold. I believe and hope we keep him.
''I hope he thinks he is valuable to be here, and that he sees it when he wants to choose the next step in his career. He can continue to develop in IKStart, then he can realize his dream of playing in a big club in Europe.''
SK Brann, believed to be ahead of other candidates for Solomon Owello, are expected to table an official bid for the midfielder in the coming days. The decision to stay or leave Start is with Owello.
(Photo Credit : IK Start)