Everton Coach Praises VICTOR ANICHEBE
Published: September 23, 2012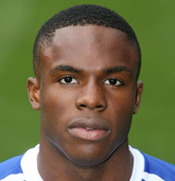 Everton coach David Moyes has praised the performance of Nigerian striker Victor Anichebe.
The Beijing Olympic silver medalist for the first time in his career scored in successive games in the 3 - 0 win over Swansea City on Saturday.
''He did okay in midweek against Newcastle as well and did not get the credit he deserved for his goal and the one that should have been. We are playing with confidence and he is contributing well.
"He does not possess an awful lot of self-confidence but if he gets that and has a bit of belief he is a handful for defenders as he has a lot of attributes that are difficult to deal with in the modern game,''said Moyes.
Anichebe, 24, has scored in every season in the Premier League apart from the 2010 - 2011 campaign.
Photo Credit: ligafutbol.com
Latest News