ALHAJI GERO Will Spend A Week Testing With Randers FC
Published: November 13, 2012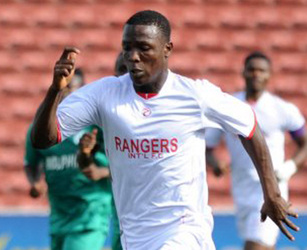 Randers FC announced yesterday that it has a visit from the attacker Alhaji Gero. He has appearances for the Nigerian U20 National Team and played the club's reserve team match against AGF yesterday.
According to assistant coach Joakim Matsson, Gero impressed against AGF, and the club will evaluate him for the next one week.
''He played an hour for our reserve team yesterday. He has a nice physique, but it's hard to judge after a single match. He looked fine in some situations, and in others you could see that he lacks a little in the interaction with teammates,''
says Matsson to bold.dk.
He added: ''We have had him recommended by an agent, we have good contact with. He is here this week, and then we will see what he can. He did not fall through, but he would not be able to go straight into our first team. He trains with our reserve squad today, but otherwise he trains with the first team, and he will play our next reserve team game.''
Randers reserves lost the encounter with AGF by 2-1. Randers' goal was put in by Oliver Feldballe, who played the entire match.
-Thanks to bold.dk

Photo Credit: sportsdayonline.com