Lacina Tarore Transfer: CFR Cluj Report Kuban To Fifa
Published: April 22, 2013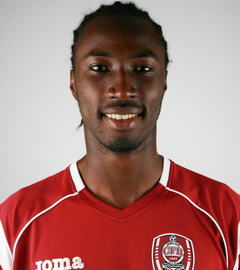 According to reporting by
prosport.ro
, Romanian club CFR Cluj have reported Kuban to Fifa, claiming they were 'duped' following the transfer of their former player Lacina Traore to Anzhi Makhachkala.
Recall that Lacina Trore played for CFR for three seasons, from 2008 - 2011. Two years ago, the Ivory Coast international was sold to Russian Premier League outfit Kuban for 4 million euros.
Inserted into the contract was a 10 percent sell on clause on the proviso that the striker's subsequent transfer must exceed 4 million euros.
Last summer, Anzhi purchased Lacina Traore from Kuban. Though the transfer fee was not disclosed, it is believed to be in the region of 18 million euros.
Ten percent of the amount(approximately 2 million euros) has not been remitted to CFR Cluj by Kuban as the club claimed they sold him for 4 million euros.
Photo Credit: cfr1907.ro
Latest News