Judgement day for Amodu
Published: February 05, 2010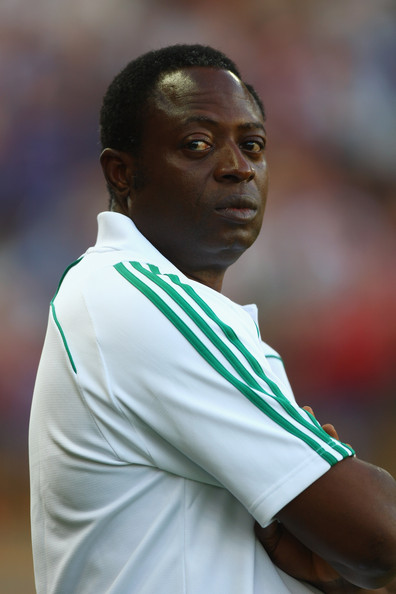 Nigeria coach, Shuaibu Amodu, is Public Enemy No.1.
And should the Nigeria Football Federation (NFF) attempt to give the man a soft landing on Friday, they would invite the public backlash on to themselves.
And that would not be too clever for a street-smart bunch, who have more or less perfected the plan to extend their mandate by another four years come August.
Tomorrow, the services of Amodu have to be dispensed with and the process of hand picking a new man to lead the Super Eagles to the World Cup in June will begin immediately.
The hawks on the 12-man NFF board want a clean break from what we all endured in Angola, while there are a few pigeons among them who want him to only step down a rung and work under this new 'World Cup' coach.
If I were in the shoes of Amodu, I would be more than grateful to now take orders from the new 'Oyibo' and even play ball boy.
After all, that would mean that my cool two million naira (about $13,000) monthly pay would be guaranteed, at least till my contract runs out on July 31.
It would also mean that I would still earn double what ever bonuses the players get.
I have been told Amodu has agreed to this new order. Who would refuse a free lunch?
But the NFF have to be decisive in this matter, just as they were when they got rid of former international skipper Henry Nwosu when it became very obvious he was not the man to lead the country to the Under-17 World Cup, which the country hosted in November.
Little known John Obuh replaced Nwosu. It was a big gamble which paid off even though the Eaglets were eventually not golden, but at least the country were not disgraced in front of their own fans.
Having Amodu hanging on in the team will be counter productive. Some players would still owe their loyalty to him and one would not be surprised if he does not give his new boss quality information and tips about the players and the team in general.
I would do same were I to be in Amodu's shoes. The leadership of the NFF has been several steps ahead of the opposition as regards the re-elections in August.
But one would be tempted to see them as a bunch of self-serving opportunists, if they are also not alive to the sensitivities of a public desperate for a necessary change ahead of an historic world football showpiece on African soil.
The next couple of weeks will be rife with speculations, which could lead to confusion if those entrusted to pilot the affairs of Nigerian football choose not to be focussed.
They have to move with good speed and get the new man on the job as soon as possible so that preparations for the World Cup will begin immediately, as we all are wont to say.
This is a well travelled road for Nigerian football - one guy qualifies the team for the big show and then another chap shows up and he is the one who finally steps up on to the big stage.
Clemens Westerhof barely survived this scenario when he guided the Eagles to a first-ever World Cup in 1994. For the 1998 World Cup, Frenchman Philippe Troussier qualified the team, but it was 'World Cup' coach Bora Milutinovic who was in France with the Eagles.
Four years on, Amodu was shoved aside for Adeboye Onigbinde to call the shots in Japan and Korea. It will be deja vu in 2010.
But we cannot afford to play out this script again and again. We have to ensure that this will be the last time we pull off such a stunt and that by the next time, we would have put in place a very good structure that would ensure everything is planned for long ahead of time.
Three years ago, this same NFF bungled in the hiring of Berti Vogts, great player but 'beer parlour' coach (if in doubt just ask the Scots).
They now have an opportunity of a lifetime to make amends by first getting a 'World Cup' coach and after South Africa 2010, a developmental coach, who will be handed a long-term contract so as to put in place a more enduring structure that will get Nigeria playing and winning to their full potential, and not always playing catch-up and picking up 'golden bronzes'.