Victor Moses Drops Chelsea's Opinion About Nigeria in 2018 World Cup
Published: December 12, 2017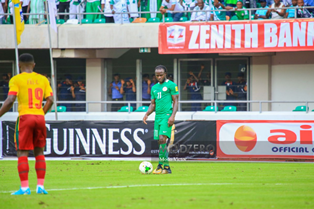 Nigeria might not have any proven track record in excelling in the World Cup, but this doesn't stop them from remaining optimistic about the global tournament.
One of which who believes that the African country is up for greater things is the Nigerian midfielder for Chelsea, Victor Moses.
But he isn't a sole Blues footballer, as he's also playing for the Nigerian national team for next year's World Cup.
Though he's a huge support for his home country's campaign, his teammates in Chelsea think otherwise.
Reports say that Moses revealed that his fellow Blues players are questioning Nigeria's dominance in the 2018 World Cup.
And it isn't that hard to know the reason why, as Nigeria is going to go head-to-head with Croatia, Iceland, and Argentina. Being included in Group D can then be easily seen as a curse for the Nigerians, but not for Moses.
The 27-year-old forward knows this fact pretty well, that's why he knows that the Eagles' games against Croatia and Iceland are going to be tough.
But surprisingly, he says that the opposite thing will happen with their game against Argentina.
In his own words, Moses says that
Argentina should be scared of facing Nigeria
in the World Cup. He adds that they don't want to face Lionel Messi, who's arguably the best footballer alive.
But they can't do anything with it that's why they're just going to play their own brand of football.
His frank statement comes as a surprise to many as Iceland proved that they're in a different league of their own. This is because they defeated England last year.
This might also explain why Moses thinks that anything can happen to their World Cup campaign next year.
The
highly-optimistic Moses
then concludes his statement by saying that everyone at Chelsea thinks that Nigeria is going to be thrashed in the group stage.
The Nigerian player knows why his buddies think that way, and he can do nothing about it.
Well, it's not really that hard to know why as these are backed up by concrete facts.
Speaking of facts, people know that referring to the team's previous performances is the way-to-go when looking at its possible World Cup performance.
With meek 150/1 odds, Nigeria is way below the top contenders. But if they ever make it, as what Moses confidently says, then it still wouldn't result in them staying on top of the betting rankings, or even make it to the top 5.
As of now, Germany and Brazil are on top of the betting game with strong 5/1 odds, while France and Spain are tied with 6/1 odds.
Then there's Argentina that completes the top 5 contenders for 2018 World Cup supremacy with their 8/1 odds.
Literally speaking, Nigeria is far from reaching the status these teams have. But this doesn't mean that there's no hope for them.
Based on analysts and pundits, the strongest Nigeria can get is to make it to the top 10. But even that is in question as they need to beat England and the host-country Russia to make it to the top.
Take note that they have 16/1 odds and 40/1 odds respectively. But needless to say, this will leave all fans of the game more enticed and hyped up than ever in seeing if ever the underdogs can defy the odds imposed on them.
In line with this, it would make sense to
find the latest betting offers to bet on your favorite Nigerian players
who might reverse the ill-fated expectation they have for the 2018 World Cup.
Hopefully, Victor Moses backs up his talk. Let's just hope he does.
Igho Kingsley