FIFA World Ranking : Nigeria Now 48th, Rise One Place, Fifth In Africa
Published: September 20, 2018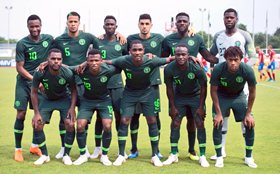 The Super Eagles rose one place in the latest FIFA ranking released on Thursday morning by the world football ruling body.
The Eagles were 49th in August but their latest September position is enhanced by the emphatic 3-0 win over Seychelles in the 2019 Africa Cup of Nations qualifier in Victoria 12 days ago.
The ranking means Nigeria are now Africa's fifth best football national team behind the quartet of Tunisia (23rd in the world), Senegal (25th), DR Congo (40th) and Morocco (45th).
Nigeria's 2019 Africa Cup of Nations qualifying foes, South Africa, Libya and Seychelles are ranked as 73rd, 99th and 189th respectively.
World champions, France, and Belgium are the joint ranked best team in number one by FIFA followed by Brazil (3), Croatia (4), Uruguay (5), England (6), Portugal (7), Switzerland (8), Spain (9), Denmark (10).
Argentina, winners of the World Cup in 1978 and 1986 are 11th in the FIFA ranking table.
The next release will be on 25 October 2018.
Izuchukwu Okosi