Should You Bet On The Nigerian Super Eagles?
Published: February 03, 2019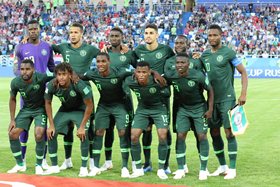 Sports are a significant thing to the Nigerian people. The most popular game in the country is football.

The Nigeria Football team nicknamed the Super Eagles is the national football men's team in the country. On the other hand, the national women's team is known as the Super Falcons.

Here is a look at all that the Super Eagles stand for.
History of the Super Eagles
The history of Nigerian football dates way back to when the country became a British Colony. In 1930 the Nigerians used to take part in different soccer competitions with other colonies.

The first international match was played in 1969 against Sierra Leone, and luckily the Nigerians won 2-1. The country continued to take part in both local and international events.
In 1970 Nigeria took part in the  All Africa games which were a big success for them. Again in 1976-1978, the country was part of the Africa Cup of Nations where they fell in third place.

However in 1984 and 1988, the Nigerians got to the finals of the Africa Cup of Nations, but sadly they did not win.  
The Super Eagles in the World Cup
One of the significant events in history for the Super Eagles was them taking part in the World Cup.

Their first ever appearance was in 1994, although they did not lift the cup. Then again in 2014, after a ban from FIFA, the country also made an appearance in the 2014 World Cup.
However, 2018 was a significant year for the Super Eagles. It was the first country in Africa to qualify for the  2018 World Cup. 

When the Super Eagles made it to Russia, it was a pride moment to the people of Africa. However, for the Nigerians, it was a moment of glory and for them to shine in the International scene.
When the Nigerians
first lost to Croatia
, it was a heartbreaking moment for most of their countrymen. Although the Super Eagles missed out a place in the top 16 it was not the end for them.
Their next match with Iceland left the whole country it was the entire African continent in celebrations.

They were able to secure two goals against them. The Nigerians were able to score three points after Ahmed Musa scored the winning goals.
Why should you bet for the Super Eagles?
• The Super Eagles are arguably the best team in the African continent. In a ranking released by FIFA in 2018, the Nigerians are the fourth best team in Africa. On a global level, they rank at the 44th position.
• They boast of some of the best players who play in both the local and international scenes — for instance, Alex Iwobi who plays for Arsenal in England.
• The team has won the Africa Cup of Nations three times, and it looks to bag more trophies
Ifeanyi Emmanuel