How Manchester United Nigerian Fans Reacted To Solskjaer's Appointment As Full-Time Manager
Published: March 28, 2019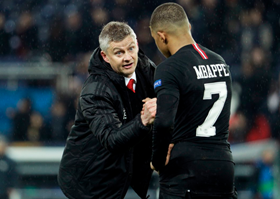 Ole Gunnar Solskjaer has been appointed as the full-time manager of Manchester United on a three-year deal, the Old Trafford side have confirmed via their official website.
The permanent employment of the former Norway international, who previously served as caretaker boss after José Mourinho's sacking in December 2018, has led to reactions from Manchester United Nigerian fans on social media.
In 19 matches since he took over from the famous Portuguese coach, Solskjaer has won 14, drawn two and suffered three defeats to Arsenal, Wolves and PSG, and took United to the quarterfinals of the UEFA Champions League.

Here's how Nigerians reacted on Twitter to the news :

@GodwinOdiko : ''It's Ole Gunnar Solskjaer's time.⏰ I am following back every Manchester United fan to celebrate this massive feat in finally getting our very own at the wheel. Let's go!''

@iamNulad : ''Congratulations to Ole Gunnar Solskjaer''.

@Hemmanuelle65 : ''What's the point in making Gunnar Solskjaer the manager of @OfficialMufc when @ManCity will defeat them @OldTraffordReds simply because they don't want @LFC to win the Premier league? God will judge you😏😏😏 #OlesAtTheWheel #MUFC''.

@stephenngidist :''Kudos and thumbs up to Man Utd management for rewarding Ole Gunnar Solskjaer with a permanent deal.I think with Ole, d Red Devils are good to go....''.

@OlayinkaLanade : ''Ole Gunnar Solskjaer in less than 3 Months. Brought back: The pride in the shirt! The team work! The hunger! The commitment to attack! The never give up! The Youth! The width! The Pace! The Love! I hope he gets the backing he needs from the club and fans.''

@EffaEkun : ''Nuno Espirito is actually better than Ole Gunnar Solskjaer. But that's talk for another day.''

@Folamatic : ''All the best to Solskjaer. He earn it. #olesatthewheel''.

@lytlkenny : ''Now that Gunnar Solskjaer has been named Manager, I suspect fans will ramp up the pressure to deliver something impossible before the season ends.''

@Omobacornastone : ''Congratulations to solskjaer, Congratulations to every @ManUtd fan... So deserving!!!! #OlesAtTheWheel''.

@SeanEmmanuel9 : '' I still don't think Solskjaer can do for United what Zidane did 4 Realmadrid. While saying congrats to him, he better beat barca''.

@Daniel28653219 : ''Congrats to OGS "Ole Gunner Solskjaer" Now, Young should be on the list of unwanted players. We need new hunger. This is a pre-herrera captaincy bid. Abegi.''

@rudebwoypee24 : ''#OlesAtTheWheel why is it a big news that Gunnar Solskjaer got the job we know his the only hope man u has were you guys expecting mourinho or pochettino to get the job''.

@Wizarab10 : ''Congratulations Ole Gunnar Solskjaer. You deserved the job. Now repay the faith against Barcelona''.

@JoziahBlackz : ''Perfect....Appointing the right man OLE SOLSKJAER GUNNAR as manager #GGMU''.

@the_unfallen : ''In the bleak mid-winter, came Ole Gunnar Solskjaer… I hope he wins a lot of trophies for us.#mufc #olesatthewheel #GGMU''.

@TosinOlugbenga : ''Congratulations to Ole Gunnar Solskjaer on securing the job at Old Trafford. We earnestly hope this would be the beginning of greater football experience for the United Family.''

@kfayiga : ''If there's one thing I like about Solskjaer is that his command of English is actually similar to that of an English man. Doesn't even appear he's from Norway.''

@namdie_ : ''United should have just left Ole Gunnar Solskjaer as an interim till the end of the season. Now that he's been made a permanent manager, I have a feeling he'll start losing games United are expected to win.''

@lekxyman : ''Ole Solskjaer appoint as permanent Man Utd coach can't wait for next season to start and see him prove himself 😊''.
Ifeanyi Emmanuel