Golden Eaglets Captain Pre-Match Press Conference : Every Word On Opening Game, Tanzania's Attack, Getting To The Top In Future
Published: April 13, 2019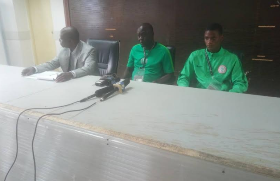 Golden Eaglets captain Samson Tijani attended the mandatory pre-match press conference on Saturday afternoon along with coach Manu Garba.
Here's every word the Collins Edwin Sports Club midfielder told the media :

Thoughts on opening game against Tanzania?

Thank you very much, the thing is that our game tomorrow is not going to be hard because it is a game at a time, you don't rush the game. So I believe in my guys that we are going to do better tomorrow, Inshallah.

Everything does not depend on human, everything depends on God. By going to the top in future, everything is in God's hands and I believe God will make us to be great.
Stopping Tanzania's dangerous attackers?

By saying they score almost three goals in every game, that does not concern Nigeria because they don't know how we play and you don't have to know how we play.

I just believe that we are going to conquer them tomorrow Inshallah.
Ifeanyi Emmanuel