International Dream Cup Nigeria 1 Romania 2 : Top Shooter Sopuruchukwu Scores Again As Future Eagles Finish Third
Published: June 16, 2019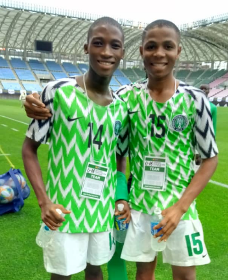 There was another disappointing scoreline for the Nigeria U16s as they lost 2-1 to Romania in their final match at the International Dream Cup 2019 on Sunday morning.
The Future Eagles started their campaign on a bright note with a 3-1 thrashing of Mexico on June 12 before suffering a 4-1 loss at the hands of Japan two days later.

For all their defensive frailties, the Usman Haruna-led side did not concede until the 44th minute when Romania number 9, Robert Tudor opened the scoring.

Defender Ibrahim Usman misjudged the flight of the ball which allowed Romeo Nita to cross to an unmarked Tudor, whose downward header beat goalkeeper Anthony Okoronwko.
Less than two minutes into the second half, the Romanians extended their lead through another header from Tudor.
In the 89th minute, Egesionu Sopuruchukwu halved the deficit as he headed home an excellent delivery from Johnmark Aule.
Sopuruchukwu was one of the bright sparks for the Future Eagles in a dismal tournament, and had a game-high six shots vs Romania.

The Future Eagles, who finished third in the International Dream Cup, return to Nigeria on Tuesday, June 18.
Ifeanyi Emmanuel