Rohr Names One Player Who Will Definitely Start Vs Guinea; Kalu To Undergo Fitness Test Today; Shehu Doubtful For Madagascar Clash
Published: June 25, 2019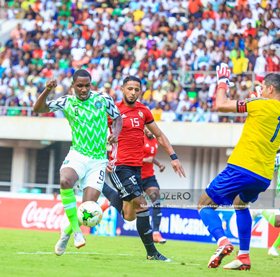 Gernot Rohr has named one Super Eagles player who will definitely start tomorrow's Africa Cup of Nations match against Guinea at the Alexandria Stadium.
Former Watford man Odion Ighalo will return to the starting line-up against the Syli Stars having made an immediate impact off the bench in the 1-0 win vs Burundi last weekend.

Bordeaux winger Samuel Kalu who has been certified medically fit to return to action will undergo a late fitness test in the final workout on Tuesday but his availability is in doubt as he didn't train on Monday, while fullbacks Abdullahi Shehu and Jamilu Collins will play no part on Wednesday owing to injuries.

''The injury of Jamilu Collins came only the day before the match in the last training session, three weeks of preparations he was not injured,'' Rohr said.

''He was one of the fittest players, his club has been promoted to the Bundesliga so there was no reason not to play him, it was a little accident in the last training session.

''His injury is not a great one so it's only a few days but he's too early for this match, he cannot play in this match. I hope to have him for the match on Sunday, the third match against Madagascar. ''
Rohr went on : ''Shehu is a little bit longer because his injury is not the same, I think he won't be available on Sunday but we have a player who can play well in his position on the right.

''He did it very well in the second half last game against Burundi, so the only problem now is to bring in Kalu again. Perhaps , he can start, perhaps not, we will see in the last training session.

''Ighalo is very fit now and he will start the game.''
Ifeanyi Emmanuel