Onigbinde Makes Big Claim Some Prominent Nigerians Bought 1984 AFCON Final
Published: July 16, 2019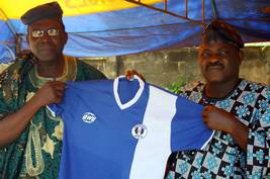 Respected Nigerian coach Festus Onigbinde has suggested that the 1984 Africa Cup of Nations final between Cameroon and Nigeria was fixed, saying that some prominent Nigerians wanted the Super Eagles to lose the game.

Onigbinde, who was in the dugout for the showpiece at the Stade Félix Houphouët-Boigny, Abidjan, feels he is being sidelined by the Nigeria Football Federation despite his contributions to Nigerian football in the past.
''I sympathize with Nigeria, I had been to this competition before but now I am not relevant with Nigerian football, they have declared me irrelevant and I'm enjoying my rest,'' Onigbinde told Cool FM Abuja.

''In 1984 Nigeria placed second under my control and that was as a result of intrigues and sabotage by Nigerians so I wish Nigeria the best of luck.

''Certainly I would have won in 1984, at the right time I will reveal the secret to Nigerians, the final match was bought by some prominent Nigerians.''
Onigbinde refused to comment on whether more local based players should have made the Super Eagles roster to Egypt and appeared to aim a dig at manager Gernot Rohr, who wrote off the country's chances of winning the Africa Cup of Nations even before the competition started.

''That is left to the administrators, don't forget that before the competition started our coach rated Nigeria out of prominence,'' he concluded.

The 81-year-old Onigbinde coached the Super Eagles at the 2002 World Cup and is an advocate on local based players being part of the senior national team.
Ifeanyi Emmanuel