Top African Athletes
Published: November 21, 2019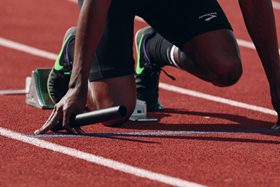 The continent of Africa has a proud history of sporting greatness.

The most popular team sports on the continent are association football (soccer), basketball and cricket.
Hundreds of African players are signed to European football teams, with around 80% of all African players that compete in the FIFA World Cup also playing for clubs in European leagues like the
English Premier League.
Africans also dominate in athletics with sportsmen and -women from the continent holding hundreds of world records.
This includes most running distances, discus, heptathlon, pole vault, and shot put.
Here is a look at some of the continent's top athletes.

Kipchoge Keino
Kipchoge Keino was Kenya's first athlete to be successful on the world stage. He won two Olympic titles (one in the 1,500m running during the 1968 Mexican Olympics, and one in the 3,000m running at the 1972 Olympics in Munich) and several world records.
Keino's 1968 gold medal win almost didn't happen. His doctors had told him not to run due to a diagnosis of gallstones; this led to him pulling out of the 10,000m, 5,000m, and 1,500m events.
However, on the morning of the 1,500m event Keino changed his mind just an hour before the starting pistol was due to be fired. He caught the next bus to the track but it got stuck in traffic.
So Keino decided to run the 2 miles to the stadium, arriving just in time and winning the race with a 20 metre margin.
Raymond Rahme

Raymond Rahme is a 74 year old professional poker player from South Africa.
He turned professional later in life than most, reaching the final-table (and finishing third) at the 2007
World Series of Poker
, beating over 6,300 others to get there; he was the first African to do this.
Rahme has since gone on to win the All Africa Poker Tournament in Swaziland on two occasions, as well as a number of other top 5 finishes.
He is first in the South Africa all-time money list, and 418th overall. Rahme hasn't played professionally since 2016 so has likely retired.

George Weah
George Weah of Liberia is often regarded as Africa's greatest footballer. He won African Footballer of the Year on three separate occasions throughout his 18-year career.
He scored 193 goals in 411 appearances, which included some of the world's most famous teams:
Manchester City
, Chelsea and AC Milan.  

Makhaya Ntini
Thanks to its connections to the former British Empire, South Africa is a strong cricketing country.
Makhaya Ntini was the first player of African descent to be selected for the country's national cricket team.
His aggressive bowling style and efficient fielding made him a formidable player, earning him a permanent position on the team for 11 years, where he set a record for the most wickets taken in a test match by a South African.
Africa is a continent with a strong sporting heritage. It dominates in almost all of the areas that its countries compete in.
African athletes own hundreds of world records and its sportsmen and -women have seen success at the top level of sports like football and cricket.
Igho Kingsley

Photo Credit : Braden Collum