What Are Nigeria Punters Betting On While There Is Not Much Football?
Published: May 25, 2020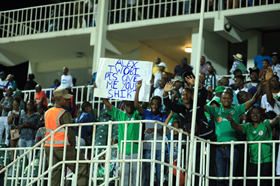 With the major football leagues all on hold due to the Coronavirus, punters have had to be creative and flexible to find sports and games to bet on.
Although Bundesliga is now playing matches, the rest if the major leagues are still not playing, and even when they do play, there is no crowd and this is having an affect on the players and punters alike.
Punters looking at their
best Nigeria betting sites
, have been able to find a few options, and these include SRL, eSoccer and Virtuals.  
SRL
This is called the Simulated reality League and is a virtual game, but is it not based on a random number generator, but actually based on historical data.
The games play out over a full 90 minutes and the objective is for the matches to play out exactly how they should if they had actually been played.
eSoccer

eSoccer, or electronic soccer is video game soccer matches, typically FIFA.
These FIFA games can be played either by professional FIFA players, or by professional football players, and you bet on the game like you would a real soccer match.
There are limited markets to bet on, and the diffciculty punters are having with this is that they are not betting on which team to win (as per a normal football match), but rather betting on which player will play the FIFA game the best.
Virtuals
Virtual sports betting has been around in Nigeria for ages and has always been popular.
However, it was traditionally played simply to pass the time between real football games and was more like a "supporting" game.
Since there are no real football games happening at the moment, punters have started
betting on virtuals
in a big way, and it has become one of the fastest growing betting products.
Will these alternative betting products continue to be popular after real football returns? The answer is complicated.
We think that nothing beats real football and once it is back, punters will devout 90% of their betting on it again.
However, as they would have had a taste of these alternative games, they will continue to bet on them moving forward, to a greater extent than they did prior to the lockdown.