Common Sports Betting Mistakes To Avoid
Published: June 13, 2020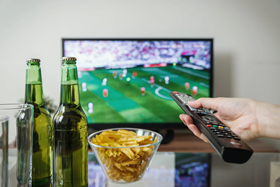 Betting on sporting events is very challenging and with money on the line, sports betting should be taken seriously. With the feelings of excitement towards an upcoming match, many players tend to overlook certain variables that end up costing them.
While staying updated with bookmakers'
betting tips 1x2
and
fixtures
, it is also important to be aware of the common sports betting mistakes made by beginner and seasoned bettors alike.
Unrealistic Expectations
When it comes to placing bets, it can be easy to set unrealistic expectations for the outcome—especially for new bettors. Most of the time, the odds aren't in your favor.

Having lofty expectations can lead players to risk it all, placing higher bets and even put all their assets into one basket.
To avoid being overly confident and ambitious towards a certain bet, it is important for bettors to stay grounded.

They shouldn't expect to win the majority of their bets or get rich overnight.
Not Managing Finances Properly
One of the very first rookie mistakes sports often commit is how they manage their money.

While this point is plain and obvious many still fail to take bankroll management seriously and lose track of their finances.
To avoid throwing away hard-earned money, sports bettors need to educate themselves on handling finances.

Learning about bankroll management and staking plans will effectively improve their betting performance.

As a result, sports bettors will be able to keep track of their losses and even increase their profits.

A major key to winning a bet is making smart moves.
Placing Too Many Wagers
While placing more wagers might seem like you're increasing your chances of winning big, it isn't a very effective strategy.

Many betting beginners jump into the sports betting game with full force, taking on as many bets as they can. This game plan often results in losses due to the lack of thought behind it.

Instead of betting on an array of different sports, it is smarter to be selective.

By focusing on one or two sports you will be able to bet on more single events related to the sport and focus on making strategic results-driven betting moves.
Picking Your Favorites

If you plan on winning big off your bets, choosing your heart over your head isn't going to help.

One of the most common reasons why bettors lose bets is because they remain biased toward their betting favorites.

Whether it's your hometown's team or favorite athlete participating in a match, smart bettors shouldn't be swayed by their own gut.
Another thing to be aware of are the public's bias, teams, and players placed on the spotlight by the media are biased and can have inflated numbers.

To increase the chances of winning, bet against public opinion, and start placing your bets based on expert information as well as statistics.

Instead of Betting Big, Bet Smart
For beginner sports bettors out there, it is important to be aware of the competitive nature of the sports betting industry.

It isn't an easy game your joining. By keeping these common mistakes in mind, you will be increasing your chances of placing successful bets and save yourselves from costly mistakes.
Igho Kingsley