How to Pick the Right Betting Site?
Published: May 20, 2021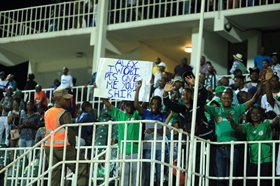 What You Need to Know When Looking for a Betting Site?
How to pick the best betting site is a question one could discuss for hours if not days. Every single one of your friends, if they are in sports betting, will be certain that their favorite bookmaker is the right way to go.

Nevertheless, you might have different interests and even a different betting strategy – this should play a determining factor in choosing the right betting site.

There are certain factors that you would need to look out for and certain things to consider, which may not be all that obvious.

Having that in mind let's delve into what makes a betting site truly stand out and how you should make use of this.

Set Your Priorities Straight

First of all, you will need to figure out your priorities, so you will need to think about the following things: What connection do you have?

What device are you using? What sports are you interested in and how much money you can use for betting?

Your Internet Speed Matters
A recent
speedtest.net report
shows that the average internet speed in Nigeria is 22 Mbps for mobile devices and only 16.33 Mbps for broadband.
For comparison average global numbers are 53 Mbps for mobile and 102 Mbps for broadband. The reason we brought this up is the need to pick a betting site, which doesn't require you to have a super fast connection.

This is important because if your connection will not be fast enough you will have a generally bad user experience.

You will not be able to quickly place bets, which is crucial if you are into live betting and you will generally spend a lot of your time waiting for different pages to load.

We are going to let you do your own research for the most part, however in case you are interested – one betting site which we can recommend in terms of loading speed and performance is
Paripesa.
Their website caches most static page elements which significantly improves loading speed and reduces waiting times when moving between pages.

Additionally, they have a relatively good offer of sports and markets, so you shouldn't be disappointed.

What Kind of Device Do You Have?

Another important factor to keep in mind is how powerful your device is. Obviously if you are using a high-end or even a relatively "average" smartphone, you will likely be able to use any betting site out there without any issues.

However, if you have a slightly outdated device, then things may get a bit more complicated. This actually goes side-by-side with the point we outlined earlier, where you would need to seek out a well optimized betting site.

Here you come across the same requirement, but for a different reason. If you want to have a smooth betting experience on an older device – the betting site you chose has to be very well optimized, otherwise you are risking delays and crashes.

A good candidate to offer here would be
Melbet
– they are rather well-known in the Nigerian betting community and have a fairly good reputation.
As well as that, their mobile website is extremely well optimized and runs smoothly with older and outdated devices.

Go ahead and give them a try or feel free to do your own research if you would like to find some additional options.

What are Your Favorite Sports?

Now this is something you would obviously consider in any case, so we won't be spending too much time covering this. Our main advice is to do some research before registering and making deposits.

Read some reviews online to see whether the bookmaker you are considering actually has what you need.

You would mostly be interested to know whether there is good coverage of your favorite sports and whether the available market variety supports your betting strategy.

If these two boxes are ticked – then you can go ahead and move over to our next point.

What is Your Betting Budget?

People usually underestimate or completely ignore this factor, yet your betting budget can be crucial when determining where you are going to bet.

You can also refer to this as "your betting habits", what we are referring to is the average size of your bet.

If you are used to making bets of ₦1,000 and more, then you can likely skip this part, yet if you are used to placing smaller bets (for instance ₦50) – then you will need to find a betting site where that is possible.

To put it simply, before you go and make a deposit, make sure that the bookmaker you are going to bet at will allow you to place small bets.

What is the Takeaway Here?

The main point we are trying to make is – you should rely on your own interest and needs when looking for a betting site.

People will come to you with suggestions and advice on where to bet and they may be right based on their own criteria.

Regardless of that, you should put your own interests first, so do your own research, think critically and don't fall for false advertisement.

Bet Responsibly?

Last, but not least we would like to give everyone a quick reminder of how important it is to be mindful of your betting hobby. Remember, sports betting is first of all a hobby – something to go along with your passion for sports.

It should not be used as a means to resolve financial difficulties and earn money unless you are committed to become a full-time betting professional.

Please make sure you don't bet more than you can afford and if you feel that your hobby might be getting out of control – seek assistance.

A good place to start might be
https://www.gamblingtherapy.org/en
- they have 24/7 gambling addiction support. It is free and here you can talk with a trained professional, who can help you come with your issue.
There are also support groups that you can sign into and listen to others talk as well as speak out yourself.