Should Nigerians Stick To Local Football Betting Only?
Published: January 03, 2022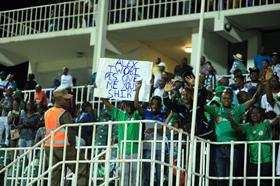 Sports betting online has been a booming business for bookies since its inception only a while ago. 

Fast forward to 2021 and betting on sports online is a million dollar industry with hundreds of free and pay for use websites available for avid gamblers and novices alike. 

In North America and the UK, sports betting is heavily regulated by local and international organisations that are charged with the sole purpose of ensuring legal, and fair betting for all bettors.
This is not the case in Nigeria, however, where the laws do not prohibit Nigerians from using local or foreign sites. 

Popular sites such as
Sportsbettingcanada.org
provide a plethora of sites where Nigerians can access and bet on their favourite football players in the MLS and other Canadian Football leagues. 
With many free online sports betting options available in Nigeria, lax authority over online sports betting, and a national pride for the game of football, there is no reason for Nigerians to stick to local football betting only.  
Short Arm Of The Law
Without sounding like a page out of a Nigerian Law book, while there exists a national board that regulates gambling, there is not much clarity or literature specifically designed to be a watchdog over online sports betting. 

Nigeria is known to have many illegal casinos and gambling sites despite gambling laws being in place.
The National Lottery Regulatory Commission is responsible for regulating gambling in Nigeria.  The commission has not been in place for very long, as it was created through the National Lottery Act of 2005.  
The Commission uses guidelines and rules to enforce its regulations and policies covering core lottery, promotional lottery, interactive gaming, sports lottery, and more.  The law splits gambling into legal and illegal categories.  
There is no law implicitly covering internet and online space, but companies are expected to follow the same laws and regulations as there are for land-based casinos.
Did Someone Say Football?
Football, or soccer as it is referred to in North America, is easily the favourite sport of Nigeria.  Nigerians young and old, male and female, all play or watch the beautiful game.
The love affair with football is not limited to games only in Nigeria.  UEFA and Bundesliga are examples of European football that is quite popular in Nigeria.  
Nigeria has a population of over 206 million people and it would be a gross understatement to declare that many of those millions watch European football. 

Fans everywhere of specific sports and leagues bet daily on games before or during the sporting event.
Canadian football, or soccer, is the fastest growing sport for participation and viewing in Canada today. 

The rise to international prominence of both the Men's and Women's National soccer teams has brought eyes to Canadian Football from all over the world.  
Nigeria loves football and soccer too.  Major League Soccer (MLS) is not quite the match for talent level with UEFA and other European football leagues, but the brand of the league is growing and attracting stars from overseas leagues. 

Popular and talented players who were followed by Nigerians, are still being followed and bet on by fans.  
So why would Nigerians limit themselves to local football betting when more exciting action exists in European football and Canadian Football?

Add to that the potential revenue that betting on European and Canadian Football would bring in for the economy of Nigeria, and it is a no-brainer that Nigerians should not stick to local football betting.  
Nigeria has the perfect ingredients for foreign sports betting on football.  Both the size of the population and the overwhelming popularity of surfing the worldwide web in Nigeria have opened the door for locals to bet on football anywhere in the world. 

Even though there are laws in place, they are vague and loose at best when referring to online betting. 

Nigerians love football and want to watch the most exciting matches available just as any fans of football would want. 

With no disrespect to local Nigerian football, the money follows the talent, and the talent for Nigerian football fans and bettors alike is in European and Canadian football leagues.