Why Is Crypto Sports Betting Trending?
Published: May 13, 2022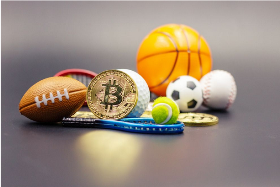 Introduction

Trends are driving the youth of today's world and who don't like to go with the trend. Crypto sports betting is a new form of betting that is disrupting the traditional way of gambling. Sports betting has been around for many years now, but it has recently taken off with the rise of cryptocurrencies. The use cases for this type of betting are endless as they can be used in any sport. With the cryptocurrency market booming, crypto sports betting is one of the fastest-growing industries globally. As crypto-currencies have been slowly accepted over the last decade, more individuals are taking advantage. With more casinos/ betting exchanges allowing customers to deposit or withdraw using cryptocurrencies, people enjoy this convenience.
Why Is Crypto Sports Betting Trending?
Crypto sports betting is becoming popular because of its ease, anonymity, and convenience. It has become an excellent way to make money as geographical boundaries do not limit it. The cryptocurrency market is booming, and this trend will not stop anytime soon. The crypto market has been increasing due to the popularity of cryptocurrencies. It allows users to bet on favorite teams using cryptocurrencies.
Fast Deposit and withdrawal

Cash deposit and withdrawal in crypto sports betting are essential features. Players don't have to wait for long business days to get their money. There are no delays in payments with the Blockchain network, and transactions are smooth. While your bet, you don't have to worry about your money and garner a great experience through crypto vetting.
Bonus and Promotion

The betting world is mainly judged based on bonuses and promotions. Like any other game type, Crypto sports betting welcomes players with great bonuses and promotions. The more you play, the more privileges you will get along the way. Bonus offers are usually made available on top of an initial deposit. On the other hand, promotions are offered as a reward for users who make a certain number of bets or wagers. To get good bonus, you can check out best crypto sports betting sites on CryptoNewsZ.
User Safety and Security
 
By now, the world knows how barrier-breaking is Blockchain technology, and the safety and security it offers are yet to be found anywhere else. Blockchain is a decentralized, distributed ledger that uses cryptography to record transactions. No third party gets to meddle or get a say in your transactions or actions on the crypto sports betting site. You will find two-factor authentication and 128-bit SSL encryption blocking all fraudulent activities from happening to your e-wallet or account.
Anonymity

As your anonymity is maintained in crypto sports betting thus, it prevents you from getting attacked by hackers or third wheelers. Your details, location, contact details, and bank details are kept confidential and never traded. Unlike other financial methods, cryptocurrency does not leave any digital footprints on your movements on crypto sports betting platforms.
Low Transaction fees
 
Sports betting sites do charge transaction fees, and sometimes they are hidden. Banks and credit card firms frequently charge transaction fees, which may be challenging for people in some parts of the world. Some conventional sportsbooks have set fees and provide little or no betting options. Cryptocurrencies provide a great deal of freedom, with little or no market transaction fees. Professional bettors will appreciate this feature. Crypto sports betting provides no hidden charges, and compared to other varieties of sports betting; the fees are lower.
No Geo-Location Restrictions

Gambling is illegal in many places around the globe due to international restrictions, and Cryptocurrencies enable you to circumvent these limitations and gamble on betting sites worldwide. One of the most appealing features of cryptocurrencies is the opportunity to obtain the finest deals from anywhere globally.
Is it safe to place sports bets with crypto?
 
Sports betting is a billion-dollar industry, and it is not going anywhere anytime soon. The use of cryptocurrency in sports betting has also been on the rise. Yes, it is safe to place bets with crypto because blockchain technology makes transactions transparent, secure, and anonymous. It also allows people to bet without any third party involved. Crypto has improved the user experience by increasing transparency, security, and anonymity in an industry previously dominated by shady practices like match-fixing or rigging. Although, If you wanted to start sports betting with cryptocurrency like Bitcoin, then get more on Bitcoin sports betting. You can know more about Bitcoin sports betting sites on CryptoNewsZ.
Conclusion
Betting on sports isn't new. It's been around for centuries and is a popular pastime in most countries. Sports betting has become more and more accessible with the introduction of crypto. With the rise of crypto, there are now many cryptocurrency-based sportsbooks where people can place bets on the games. Crypto betting sites have made it possible to place bets online with a credit card or bank transfer, which means that it's now possible to bet from anywhere.