The most valuable footballers of Nigerian descent in the Austrian Bundesliga 
Published: December 22, 2022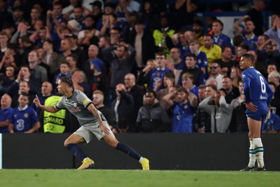 Nigeria has given birth or has been the country of origin of top footballers in many European leagues, including high profile competitions such as the Austrian Bundesliga. Austrian football clubs actually owe a lot to their Nigerian-blood footballers and this is strongly reflected in both clubs' performance and in the market values of the players themselves. Particularly for some players, their market value has increased so much that we are talking about world-class footballers with a Nigerian descent!

And everyone who follows the Austrian Bundesliga or anyone who is a fan of the sport knows that the greater the market value of players, the greater their professional development, the greater the chances of getting bigger and bigger contracts and of course the greater the attention of stakeholders and the interest of bettors. Especially with regards to  football betting, the market value of players is a significant determinant of any underlying trends. Betting in Austria - just as in other countries as well - is vastly a reflection of the market value of football players and the potentials and dynamics that they bring to their clubs.
Let's see the top football players with a Nigerian origin playing in the Austrian Bundesliga 
1. Noah Okafor

Noah Okafor is a Swiss born, of Nigerian descent, footballer currently with RB Salzburg. He joined the club early in 2020 under a contract running up until the mid 2024. The 22-year old forward has seen his market value rise exponentially, within the last fifteen months, going from nearly €5 million to an impressive €25 million! 
Noah Okafor's performance has been stunning in Red Bull Salzburg and at the moment he ranks in the first position both in the club and in the entire Bundesliga in terms of market value! He absolutely leads the way in capitalizing his football skills and capabilities.
2. Junior Adamu 

Chukwubuike Junior Adamu is a 21-year old NIberian born footballer playing for RB Salzburg as well. The famous striker has also seen his career skyrocketing in the past few years, after joining the club in late 2020 under a contract that is valid through 2025. Starting with Red Bull Salzburg with a market value of €2 million, within two years this value has quadrupled to €8 million!
Adamu ranks 12th both in Bundesliga and in Red Bull Salzburg when it comes to market value, while he is in the 14th position among all footballers in Austria.
3. Bryan Okoh
Bryan Okoh was born in Houston, Texas US, he has a Swiss nationality and Nigerian roots! The 19-year old defender is a strong asset of RB Salzburg. He joined the club in mid 2019 and his contract expires in 2025. Okoh's market value is now €1 million and he stands at 23rd position in his club, while in 55th in the entire Bundesliga. However, we have seen his market value declining in the second half of 2022 - dropping by almost 33%. We expect the market value to go up again as he is a very promising and rising player.
More players with Nigerian roots in the Austrian Bundesliga
Beside these three top footballers of Nigerian descent in the Austrian Bundesliga, there are many more to watch out. Tobias Okiki Lawal, LASK's 22-year old goalkeeper and Emilian Metu, Austria Klagenfurt's 19-year old midfielder, on loan from Bayern Munich, are two promising football players that we expect to see a lot from in the coming years in the Austrian football scene. 
Ifeanyi Emmanuel 
Photo Credit : uefa.com
Latest News