DEAR PERPETUA NKWOCHA
Published: August 28, 2012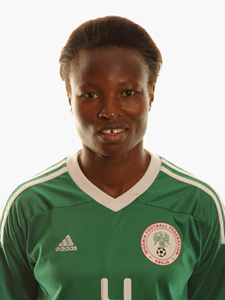 Dear Perpetua Nkwocha, how are things at your end? I hope everything is going on pretty well, even as you count down to that date when you would eventually drop your boots and call it quit with the round leather game.
This letter will surely come across to you as unusual and unexpected, especially as I am writing it to you through the public medium of this esteemed portal, but I have to state categorically that I this to be kept on record and serve as a reference point for you, your relatives, your friends and all your well wishers.
As it were, I first came up close with you in the month of January this year, when I first traveled to Owerri with my wife and we were both present at Dan Anyiam Stadium when the All Stars International presented you with an award of excellence to mark your fourth feel of African Women Player of The Year.
I must confess that the biggest thrill for me on that date in history was the fact that you readily agreed to have a snapshot with my wife when she approached you in the company of former Heartland coach, Chijioke Osuagwu, and you showed no signs of unease or pride.
From that moment I marked you as a lady of modesty and my verdict was concertized moments later when you agreed to field questions from a battery of journalists who flooded over you right there in the burning sun and you took a long roll of penetrating questions without flinching.
I happened to join that media session a little late, but managed to chip in one question about your age and what a surprise I got when you declared without any iota of shame that you are actually 36 years old.
Of course, we all know that ladies often find it difficult telling anyone their exact age, but there you were without any whimper telling all of us (male journalists, at that) how old you were and I could not help but exclaim: 'But you look so young. How do you maintain your shape?' and your simple reply was: "I train regularly because I am an active footballer."
The second time I came up close with you was exactly two weeks later, as we all prepared for the opening ceremony of Ihuoma Unity Cup and your were billed for another award, this time courtesy your mentor and agent, Victor Macdonald, who had already taken me up as his media consultant for the occasion at Ahiazu Mbaise, Imo State.
Three instances again made me stress inward that you were a noble lady – first was that we met you at a 'local' eatery one early morning before the occasion; two, you waited patiently for me to meet you at one of the leading banks when I called you to get your profile and we ended up taking the interview under the prying eyes of the security personnel and clients.
Three, we sat side-by-side all the way to the venue of the occasion, and there you were showing me landmarks of the countryside and pointing out special places of reckoning, which made me marvel at the fact that you were still in touch with your ancestral roots despite the several years you have spent abroad in China and now Sweden.
Aside the revelations I gained during the trip to Mbaise, I also recollect how much modesty you exuded when the Heartland supporters club ushered you to the podium with dancing and singing, then the pain you showed right after the occasion when the gift presented to you by Honorable Adaku C. Ihuomna initially went missing.
Surely, not many Nigerians or even indigenes of Imo State would have the pleasure of getting up close to you the way I did in January and February, but that is not the import of this letter, which I have actually put together in expectation of your retirement from the game that has brought you fortune, fame and favour over the years.
The big question I would want you to ask yourself right now, as you make plans to hang your boots after the Africa Women's Championship in South Africa, is what will you now do for the rest of your life, which will, incidentally, be longer than all the years you have spent up to now (through childhood and as a professional female footballer).
The real issue will no longer be that Mr. Femi Fasetire was privileged to enjoy the company of this four-time African player of the year (just like Samuel Eto'o for the males), but we now have to help you answer this poser: What happens to Perpetua Nkwocha, now that she is set to stop playing?
Because I feel for you, not lasciviously but in the Agape way (just as a journalist would worry about he wellbeing any public figure, before my wife starts getting uneasy), I have decided to use this medium as a reach-out avenue to lay bare some commercial suggestions that can help you keep your fortunes even as a retired footballer.
Now that I am a sports consultant and media adviser, I should ordinarily approach you for a consultancy fee, especially after my dear friend, Amar Ignis suggested in Owerri that I should charge you to package a special official website for you, but I have set aside all profit motif and decided to give this to you FOC.
In effect, if you have not thought about this before, you should doing so, and fast, because time is no longer on your side and the need for something to fall back on has become more imperative to you now than ever before, because investment is the pillar on which any wise and far-sighted sports personality would line out for his or her harvest time.
Harvest time is here for you, dear Perpe, and I boldly state that one or all of the following business tips will keep you shinning, smiling and sailing in paradise on earth for the rest of your days, while also keeping you relevant as a sports ambassador to your community (Ngo-Okpala), Imo State , Nigeria , Africa and the entire globe.
How good I would feel to enter Owerri or any other city for that matter some time in the near future and come across Madam Pee's Eatery, Lady P's Boutique, Perpetua's Health Shop, Nkwocha Transport Company, PN Computers & Cyber Café, or Perpe Barbing and Saloon – names of several business outlets – fast food joint, beauty salon, keep-fit centre, keke NAPEP/Marwa, internet service, barber's shop, etc – all owned by Perpetua Nkwocha.
Dear Perpe, while I write with all empathy, considering that you will have to face the vagaries of life as a wife, mother,, sister, aunt and social figure – all rolled into one, I further admonish that you should not go into coaching; lest you end up getting used and dumped like Uche Eucharia, Joy Nnenna Etim and Okunwa Igunbor-Showemimo – all esteemed women in the coaching trade, who have fallen to the unspoken verdict that coaching in Nigeria is for the men.
So, instead of you toiling and hunting for spoils in the 'unthankable' job of calling shots from the sidelines, , why not start a business, and it would be a delight for me seeing you invest in many or all of the aforementioned business ideas.
Furthermore, considering that you must become successful as a businesswoman after retirement, it would not be out of place to suggest that you should thinking about toeing the same line already taken by one of your benefactors, Honorable Ihuoma, who could willingly become your mentor, Godmother and advisor should you choose to go into politics – as I HOPE YOU WOULD.
Doing that would give you the chance to continue in your love for social development and you would also be able to contribute further to development of football (girls and boys), as the youth club you already sponsor at your community could transform into a non-governmental organization and empowerment camp to be known as Perpetua Nkwocha Football Foundation.
My dear sister, all you need is to throw your name round a little, get support from people like Ihuoma, Fan Ndubuoke, Victor Macdonald and the first lady of Imo State, while also involving your clubs in China and Sweden, who would all be ready to back you up as an ambassador that won the African Women's Footballer of The Year award a record four times before quitting the game.
Once you take these steps I have outlined for you, I can bet you that, several years after your retirement, we will still see, hear, feel and even smell the impact of Perpetua Nkwocha through the spread and growth of business ventures, an endowment/trust fund, a football development project and lots, lots more all bearing your name.
Sam O'Femi Fasetire