Egyptian Agent Berates Rangers, OFOEDU, Says: I Was There When He Signed For Oak Zeel
Published: November 12, 2012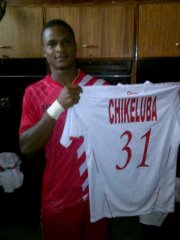 More controversy has been added to the unending Chikeluba Ofoedu transfer saga by an Egyptian players' agent who blasted the striker, disclosing his shock and amazement that Chikeluba could bite the fingers that fed him by being part of a grand conspiracy to deny Oak Zeel FC after having begged the club to clear him from UNTH FC of Enugu.
In a chat with
allnigeriasoccer.com
, Mr. Hanny Saddick revealed the events that led to Chikeluba joining Oak Zeel FC and stating that Oak Zeel FC relocated to Ghana because of witch hunting by the Enugu FA chairman.
"I was in Nigeria to scout for players when Mr. Valentine Okechukwu Omeje, the owner of Oak Zeel FC took me to see a UNTH Healers FC game. After the game Chikeluba and another player, Chidubem Aniamalum caught the eye. After the game the two players came to our hotel room pleading for Oak Zeel to sign them but Mr. Omeje told them that the money UNTH FC was demanding to clear each of them was far too much for amateur players.
''At this point I told Mr. Omeje to do all he could to sign those boys, especially Chikeluba because in the next two years I was sure he would recoup whatever he invested many times over, and on this premise he went ahead and cleared the boys from UNTH and they signed for him,'' said Saddick.
He added: ''It was then very shocking for me to hear that the same player has been cleared to play abroad but by a different club entirely. Upon investigation I learnt that the Enugu State FA Chairman is behind the whole affair to deny Oak Zeel FC of what is rightfully theirs.
''That is the problem with African football. People see someone who is using his hard earned funds to sponsor football yet they try and steal from him whereas they will not be willing to spend a dime of their own money to sponsor or support football. It is because of this attitude that Oak Zeel FC has moved over to Ghana and I do not blame him at all.''
Johnny Ogbah