Ex Players Bitter Over The Case Of Jossy Lad
Published: March 20, 2013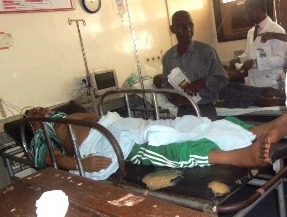 Ex-internationals, Sesan Odukoya and former Super Eagles winger Dimeji Lawal have expressed dismay over what always been the plight of ex-footballers in Nigeria who always be at the mercy of people's goodwill whenever they have ill-health.
Speaking at the emergency ward of University Teaching Hospital where the former Super Falcons' Coach, Joseph Oladipo fondly called 'Jossy Lad' is presently lying half dead after he was diagnosed of having heart related problem, Odukoya former 3SC and Stade 'De Abidjan FC's defender who wept over the condition of his senior said to need about 2 Million Naira for surgery said this is bad for Nigerian sport.
Odukoya former coordinator of National Associations of Nigerian Footballers (NANF) in South/West said the system is not favourable to Nigerian Sports men and women especially the footballers who their job is not pensionable and the players union who could have been helping their plight is not united.
He however called for abolition of the two warring player's bodies The Association of Professional Footballers of Nigeria (APFON) and National Association of Nigerian Footballers (NANF) and establishment of a new unified players union.
''The two player's union we in Nigeria have failed Nigerian footballers, lots of active footballers are being owed, maltreated and enslaved by some clubs through the mischief of some agents and club's administrators and it is player's union that is in good position to fight their cause.
''See what is happening to our aged ones now, not until appeal fund is raised, they cannot get decent medical attention, this is disheartening,'' Odukoya fumed.
Also speaking Dimeji Lawal condemned the attitude of Nigeria' state to its heroes, saying Jossy Lad who was the pioneer captain of the squad that won the first continental laurel for Nigeria at club level and he's being left for hours unattended to when rushed to UCH.
''This country don't have regard or recognition for its heroes, not only in sports but in all spheres of human endeavor, and as our leaders are celebrating a centenary of the nation Nigeria, they should try and look in this area if not for anything for the sake of the up-coming ones,'' Lawal said.
Coach Jossy Lad as at Wednesday was still at the resuscitation ward of the UCH with life support machine tightly fitted into his nose.
Akanbi Agiri