Jossy Lad Commences Last Journey Home
Published: June 13, 2013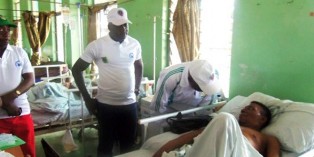 The burial rite for the late Super Falcons Coach Joseph Ladipo popularly known as Jossy Lad has commenced on Thursday evening at Obafemi Awolowo Stadium Ibadan with memorial football match and services of song which was witnessed by the family members of the deceased, friends and scanty well wishers.
Clergies form the Christ Church Mapo, where the late 3SC immediate past Board Chairman attends conducted the wake-keep after 3Sc team 'B' and an Ibadan based grassroots club played a ceremonial football match which recorded not too encouraging attendance.
The not too pleasing development elicited reactions from the associates of the deceased who bemoaned and expressed pity over the future of present active Nigerian footballers.
George Hassan, who played with the deceased at IICC in the 70's and subsequently worked with him at Leventis United FC as player scout amidst tears decried pitiful ordeal of the deceased at his last moment.
''I was moved to tears when I visited Jossy Lad on his hospital bed at University teaching Hospital (UCH) and he told me he didn't have more than 5,000 Naira in his bank account when he fell sick and now at the mercy of government of well wishers for survival that eventually never came.
''I'm sure UCH knew he would not make it and summarily discharged him to go and die at home.
''Such is the plight of our past heroes in this country ,'' Hassan, who just back from United States told journalists at the wake-keep.
Meanwhile, a church service will be held at Christ Church, Mapo early morning of Friday and interment will follow at the cemetery of the church while guests would be entertained at indoor sports hall of Obafemi Awolowo Stadium Ibadan.

Akanbi Agiri