FRANCISCA ORDEGA: We are the favorites
Published: September 12, 2010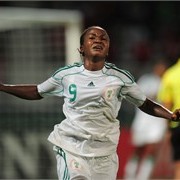 Bayelsa Queens forward Francisca Ordega has told
fifa.com
that the Flamingoes are favorites to win the FIFA Under 17 Women's World Cup. Ordega has impressed in the two games against North Korea and Trinidad and Tobago, scoring two goals in the process.
''We are the favorites. To my mind we are the best team there is. It's wonderful to be here.To be taking part in this World Cup is a fantastic opportunity and I'll never forget everything that's happening to me here, '' Ordega said.
Last month the female Under 20 team, the Falconets, lost 0-2 to Germany in the Under 20 final. Ordega is relishing the prospect of meeting the Germans, probably in the finals.
''I hope we can go as far as possible in the competition and make the people of Nigeria proud of us. We're a disciplined and tightly knit team that's good on the ball and we've definitely got what it takes to succeed.
''It would be perfect to meet Germany in the final. They beat our big sisters in the U-20 final and they beat us 5-2 in a warm-up match for this World Cup. It would be good to set the record straight.''
The Flamingoes play Chile in their last group match today at Malabar, Arima. Kick-off is 11pm Nigeria time.