Jay Jay Okocha - So Good They Named Him Twice
Published: December 24, 2019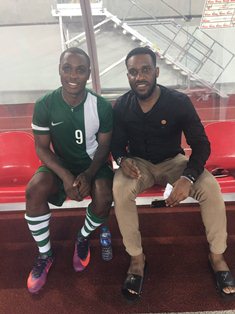 We can get so caught up in the need for instant success that every so often we forget. If not careful, football can quickly become a short-term, results-driven business - the frequent turnover of managers, players running down contracts, 10-minute debates on whether or not a manager was in the appropriate attire when standing on the side-line.
Things can turn ugly, and fast. But every so often, a player appears from seemingly nowhere and reminds us all why we were watching in the first place.
The feeling is akin to finding a tenner in your back pocket on a cold, wet Wednesday night in Stoke. Well... not quite, but an hour's drive north to a former mill town in the
Greater Manchester
area and a return to the early 2000s, and you will know exactly what I am talking about.
A player to remind us all why we refer to this sport as The Beautiful Game. A player so good, they named him twice.
In 1990, Augustine Azuka Okocha left Enugu, Nigeria and travelled to West Germany at the age of 18.
Why, you ask? Well, the answer is simple, to watch some football. After accompanying his friend to a training session, for a side plying their trade in the German third division, he was asked to join in, for what he presumed was a once off kickabout to make up the numbers.
He instantly caught the eye of the coaching staff and was invited to return the following day.
Within two years, he had earned a move to Germany's topflight, with Eintracht Frankfurt as the destination.
His progress saw no signs of slowing down, and he went on to join Turkish side Fenerbahçe, where he scored an impressive 34 goals in 62 first-team appearances.

For his home country, Okocha didn't disappoint. He was an integral part of the Nigerian International team for over 10 years, representing his country at three separate World Cups, as well as being a key member of the African Cup of Nations winning side in 1994.
Perhaps his proudest moment in a Super Eagles shirt came at the 1996 Summer Olympic Games in Atlanta, where after overcoming the likes of Brazil and Argentina, Okocha and his teammates took home the Gold.
Despite being dubbed the greatest player to have never won African Footballer of the Year, his legacy lives on to this day, both in the history books and in the form of his nephew,
Alex Iwobi
.
The former Arsenal winger, now wearing the blue of Everton, has enjoyed a promising start to his career on Merseyside, especially when considering the fact that The Toffees are currently struggling near the bottom of the Premier League table, as anyone following the
results of the soccer matches
closely would know.
Okocha was a player who brought a smile to the face of every fan, home and away, as well as constantly wearing one on his own.
He was not simply a cog in the machine, assigned a role. This was not a man who followed strict tactical instructions and tracked back.
He was a performer, an improviser, an artist, weaving in and out of defenders with such ease that it looked like they had only been playing the sport for mere minutes.

In this beautiful game we call football, sometimes things just click, and no one would have guessed that for Okocha, this would happen in the North West of rainy old England.
After leaving Paris Saint-Germain on a free transfer, Okocha arrived in Bolton, a town with industry in its blood, to play under the watchful eye of a certain
Sam Allardyce
.
Big Sam is best known as a no nonsense, keep it simple, get in their face and win-at-all-costs kind of manager.
But in the early 2000s, he was assembling his very own version of Real Madrid's "galácticos".
You might Know Sam's version by the slightly less glamorous name, "The Trotters". At the heart of this revolution was a man who, within months of his arrival, had developed a cult following.
Surrounded by the likes of Youri Djorkaeff, Ivan Campo and Fernando Hierro, Bolton enjoyed a period of success that may never be repeated.
The team finished in an impressive 6th position in the league, qualifying for the UEFA Cup, and narrowly missed out on silverware, ultimately losing to an impressive Middlesbrough side in the 2004 League Cup Final.
So if you ever find yourself having just sat through a boring 0-0, feet soaked from the pouring rain, hands frozen from holding your over-priced, watered-down beer, take a trip down memory lane and remember a World Cup and Premier League legend - the one, the only, Jay Jay Okocha.