'There Is No Proof, I Don't Think It Happened' - Keshi's Assistant, Shorunmu Reacts To Obasi's Bribery Allegation
Published: May 11, 2020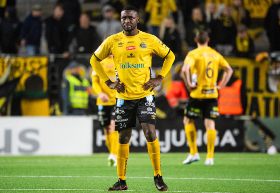 Former Hoffenheim striker Chinedu Obasi recently made a comment claiming that he was dropped from Nigeria's 2014 World Cup roster because he refused to bribe his way into the team coached by Stephen Keshi, allnigeriasoccer.com reports.

As goalkeeping coach, Ike Shorunmu was a prominent member of the national team under the late New Nigerian Bank libero and he has insisted that Obasi's allegations hold no water because he has not provided documentary evidence.

Shorunmu has suggested that the former Schalke 04 man wasn't selected because he was injured in the lead up to the tournament in Brazil, which is hard to believe because he was in action for the Bundesliga side in their last eleven league games of the 2013-2014 season.

Ahmed Musa, Shola Ameobi, Emmanuel Emenike, Victor Obinna, Peter Odemwingie , Michael Uchebo , Victor Moses and Uche Nwofor were picked over Obasi in Nigeria's 30-man provisional squad list. 

"It is unfortunate for Chinedu Obasi to mention this kind of a thing this period because how long now, it's about six years ago," Shorunmu said.

"For him to come out right now to say he was forced to bribe for him to be with the team in 2014, it's a pity that we lost Stephen Keshi because he's the main man in the team, does it mean that his assistants don't know what is going on.

"For Obasi to mention it now it is too late. Assuming it is six months or before the World Cup, everybody can testify, the NFF bosses can verify the allegations that he's making now.

"Probably due to the pressure he is passing through now, that's why he mentioned they told hm to bribe for him to come into the team.

"Meanwhile, you should not forget that he was injured that period. I don't think that kind of thing happened but if it happened years back not now."
Shorunmu had a remarkable playing career with the Super Eagles and was the country's first choice goalie at the 2002 World Cup but narrowly missed out on the 1994 edition, something which he took in good faith. 

The former FC Zurich glovesman claims he has not heard of Nigerian coaches collecting bribes in exchange for roster spots.

"I don't think so because I have been a part of the Eagles since 1990 and I have never heard of a coach collecting bribe from some certain players.

"Take myself as an example, 1994 when we were in Holland camping for the World Cup, Westerhof was insisting he'll take me to the World Cup simply because I am the youngest goalkeeper in the team and there's a lot of pressure for him to take the experienced goalkeeper.
"At the end of the day he said being the first World Cup for the country and he needed experienced players, he now called me one on one again and told me it's a pity you have been with the team since the beginning of the qualifiers to the last training but I am dropped.

"He told me to take it in good faith and I took it in good faith. Now after some years I now say Westerhof took some bribe and he told me.....

"With my experience and staying in the national team, I don't think it happened."

When asked to react to suggestions that someone probably impersonating Keshi was communicating with Obasi, Shorunmu responded : "They should hold him (Obasi) responsible to mention the person. If you accuse me for something you should bring the proof.

"Some journalists are behind the story to 'over fly' it. I don't think so but if he has the proof let him come out and show it and the person that called him representing the chief coach, let him show us the proof and they will interrogate the person.

"We now get the real facts of what is going on in the national team."


Shorunmu has stressed that the recent bribery allegation will not reduce the chances of a local coach being appointed Super Eagles coach in future simply because Obasi has not tendered any proof backing up his claims.

"I don't see anything negative against the local coaches because there is no proof, it's something that he didn't do.

"Get the proof, you don't need to nail the local coaches. What happened to one of my colleagues, Salisu, they got the proof with a camera, that's the proof.

"It doesn't mean because one coach was caught the rest of the coaches are bad, you need to get proof to do your underground investigation to get the fact that this thing is real so they can act on that," he concluded.

Ifeanyi Emmanuel

Photo Credit : elfsborg.se
Copyright ANS


All rights reserved. This material, and other digital content on this website, may not be reproduced, published, rewritten or redistributed in whole or in part without prior express written permission from allnigeriasoccer.com