Why Nigerians Love Soccer
Published: August 09, 2021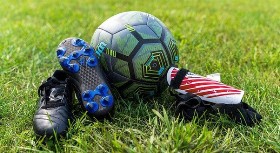 Over the years, soccer has established itself as one of the most popular sports in the world. Although it has never established itself in the United States, it is popular in other Western countries.

It is estimated that soccer or association football has more than 4 billion fans around the world. Cricket is considered the second most popular sport with a global following of 2.5 billion people.

Both sports are followed by hockey and tennis. Nigerians love soccer for many reasons. In Nigeria, football is the most popular sport.
The national football team regularly competes for international titles. Furthermore, many top Nigerian football players compete in Europe. Below, readers will learn more about the popularity of soccer in Nigeria.
Nigeria Is Good
Again, football is one of the most popular sports in Nigeria. The national team has competed for international titles numerous times.

More important, it has one of the best national teams in Africa. Sporting fans like watching their favorite teams when they win.

Nigeria's national team first played in 1904. It has developed a massive following because it is one of the best national teams in the world.

Over the years, it has produced some of the top footballers, including Rashidi Yekini, Joseph Yobo, Mikel John Obi, and Jay Jay Okocha.
Nigeria has an excellent youth team as well. Its youth team won the first FIFA U-17 World Cup that was held in 1985. Furthermore, it went on to win the competition in 1993, 2007, 2013, and 2015.

Suffice to say, Nigeria has some of the best footballers in the world. Individuals who like betting on soccer at a
casino
can guarantee that Nigeria will be a wise bet.

Bringing People Together
Nigerians often enjoy learning about different cultures. Unfortunately, many do not get the chance to mingle with people from other areas.

This is why so many Nigerians have fallen in love with football. It gives them the opportunity to meet people from different cultures and backgrounds.

Football brings people from many cultures together and allows them to enjoy something together. Even if you're cheering for a different team, you can guarantee that you'll enjoy the experience.

Football allows Nigerians to learn more about different people and cultures.
Bonding

Another thing to note is that many Nigerians love bonding with their friends, children, and loved ones. They can do this in numerous ways. However, there is no better way to do it than by watching football.

Most Nigerians love football. Watching it alone is okay but it is better to watch it with many others.

Nigerians who are looking for a good bonding experience should think about watching football with their loved ones. They can also go to a
casino
and bet on the games together.
An Inexpensive Game

Although it is fun to watch soccer, a lot of people like playing it. Nigerians love soccer because the game is inexpensive. When you decide to play soccer, you won't need to buy a lot of equipment.

All you need is a soccer ball. In addition to this, you'll need two goals. However, you can create a makeshift goal. Either way, you're going to have fun regardless. Nigerians love soccer because the game is accessible and inexpensive.
Played Focused
Another thing that makes soccer is the fact that it is player-focused. With other sports, the team matters more than the players. Soccer is different because each player has the chance to shine.

If they have enough skill and talent, they can help their team excel. One player can change the outcome of the game. A player can stand out from the crowd and Nigerians like this idea.
Easy To Play

Finally, readers should know that soccer is easy to play. It is accessible to everyone since it is easy to play. Even if you're never played soccer before, you can master the game quickly.

All you have to do is watch a few videos and start playing the game. The game is fun for everyone involved. It isn't nearly as complex as other sports.

It is common for Nigerians to get together and play this game in their back yards. As a result, they can relate to the players and this makes the sport more popular than ever before.