How to find love in 2022
Published: January 17, 2022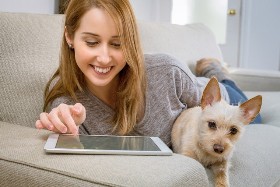 Let's be honest, despite active vaccination and fairly strict quarantine measures, the situation with the Covid-19 pandemic is still very difficult. Yes, things are much better now than in 2020, but life is in no hurry to get back on track. Cinemas, clubs, restaurants and other public institutions in many countries and cities operate with restrictions — in some places entry is allowed only with a QR code or vaccination certificate. Many businesses just couldn't survive the strict quarantine period and were forced to close.
In current conditions, there is little talk about restarting a normal social life, and offline dating, which was already ebbing away before the pandemic, has now become a complete curiosity.
Searching for a pair during Covid and after: 5 effective methods
Method 1: Offline
It is still not worth giving up completely offline dating even in the current difficult conditions. Many public institutions still operate, parks and public spaces are open to visitors, and just walking around the city, you may meet a person you want to meet and start a conversation with.
Nevertheless, we advise you to approach offline dating as responsibly as possible. Remember about your health and the health of those around you. Be mindful and don't put yourself in unnecessary danger.
Method 2: Dating sites and apps
The platforms Tinder, Badoo, Bumble and their rivals are now at their peak of popularity. Their audience lately has grown exponentially. And with it, the chances of meeting the perfect match have grown as well. So if for some reason you've not used dating sites and apps until today, now is the best time to fix it.
We just want to give a little advice: try to find themed and niche dating platforms according to your interests. The audience here is smaller, but the chances of meeting the perfect person for friendship and relationships are higher.
Method 3: Video chat sites
When Omegle video chat appeared in 2009 as the first anonymous chat site, no one could have imagined that its next big rise in popularity would happen after 2020. But it happened. The reason for this was not only the pandemic, but also the fact that Tiktokers came to Omegle and recorded viral videos of them using it, thereby providing free video advertising. As a result, in just a year Omegle's audience more than tripled.
With that, the popularity of other video chat sites also increased. Among the most popular Omegle alternatives today, we can identify the following:
•    OmeTV — a simple casual video chat with gender and geographic filters.
•    Chatrandom — a popular web chat, where, in addition to gender and geographic filters, there is a search for people by interests and themed chat rooms.
•    Emeraldchat — an original video chat app with a karma rating for each user.
•    Omegle Alternative — a
video chat for dating girls
. This is a web chat with a unique gender filter. Omegle Alternative connects men exclusively with girls, and girls must verify their identities when registering.
•    ChatAlternative — a video chat that is visually and technically more like OmeTV than Omegle. Gender and geographic filters are available.
There are actually many more alternatives to Omegle than this. We've listed only the main ones. You can consider other options as well, and the choice is huge!
Method 4: Online communities in social networks and messengers
It is difficult to appraise social networks and instant messengers as platforms for promising matches in 2022. They are still mostly intended for communication with friends, relatives or colleagues. Nevertheless, even here there are many themed online communities where people are looking for friends and love.
Actually getting to know each other in this way is quite convenient. For example, you can find an online dating community in your city or even a specific district. It makes it much easier to transfer your developing internet friendship offline in the future.
Method 5:  Metaverses
Some of you may remember that in 2012 a dating platform appeared in the virtual world of Love City. Here it was possible to navigate in VR space, communicate with other participants by voice, go on dates with their virtual avatars, host parties, and much more. The project unfortunately didn't succeed, but the idea itself was very interesting.
And now we are on the verge of the emergence of large
metaverses
, where dating in the virtual space will become commonplace. And it's not just about the metaverse of Mark Zuckerberg, which everyone is talking about now, but also about other ambitious projects. For example, Tinder has already said they are working on their own metaverse, Tinderverse. We are sure that this is just the beginning. In a few years, the online dating format may change beyond recognition.
Everything isn't as bad as it seems
Of course the coronavirus has caused irreparable damage to the socioeconomic sphere around the world. But the situation cannot be called truly critical. Modern people still have a lot of ways to make new acquaintances online. And offline too, if you wish, you can meet interesting people.
The key point is not to despair or give up. If the pandemic had happened 20 years ago, things could have been much worse. And the current difficulties should be perceived as a challenge that we will definitely overcome. We wish you good luck and only the best interactions!