Mohamed Salah – The Football Pharaoh
Published: July 25, 2022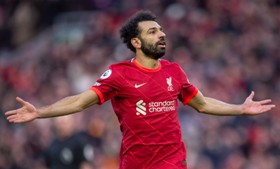 After much negotiation, Mohamed Salah has signed a three-year contract with Liverpool that will take him through the summer of 2025 on a salary of almost £350,000 per week. Salah will become the most paid player in Liverpool's history thanks to this deal, which goes against the club's usual policy of not signing such high-stakes contracts with players in their early 30s. So, what makes Salah so special?
The Pharaoh's First Step into Football
They call Salah "The Pharaoh" on the field and in the media. The fans of Liverpool have dubbed him the "Egyptian King" as well, but he wasn't always on the same footing as royalty. Born in a tiny city north of Cairo on June 15th, 1992, young Mohamed Salah became interested in football at an early age. Salah made his debut with the Cairo-based El-Mokawloon squad in March of 2010, and by the 2011-12 season he had earned a starting spot.
During the course of the Egyptian Revolution, the country's national football championship was put on hold, prompting Salah to leave Egypt and sign with FC Basel of Switzerland. Salah's breakthrough came with that transfer, as FC Basel went on to win the Swiss Super League that year thanks in large part to Salah's efforts. Because of this monumental performance, he was voted the Swiss Super League's Most Valuable Player. Additionally, Salah reached an important step by claiming the Swiss Golden Player title that same year.
Egyptian forward Mohamed Salah continued his meteoric ascent with teams like Chelsea, Fiorentina, and AS Roma until joining Liverpool in 2017. Salah has been a huge part of Jürgen Klopp's successful squad since joining them from Serie A club AS Roma for £36.7 million in the summer of 2017. Salah has helped the Reds win the Champions League, Premier League, Super Cup, and Club World Cup. His fellow countryman, Ahmed 'Mido' Hossam, proclaimed Salah to be the best Arab footballer of all time after seeing him play.
Former Olympique Marseille and Tottenham Hotspur player Mido has taken to social media to support two-time African Player of the Year winner Mohamed Salah as the greatest Arab footballer of all time. Mido tweeted, "In my opinion, Salah is the finest Arab player in the history of football."
More Than Just Another Footballer
 
In 2017, Egypt qualified for the World Cup for the first time in 27 years thanks to the penalty kick Mohamed Salah scored in the 95th minute of a match against Congo, and this fateful event put the talented Egyptian footballer squarely on a pedestal of heroes back in his home country.
 
Salah, in only a few short years, became the paradigm of how a previously unheralded young talent can explode into the global football scene. Because of his humility, unwavering inspiration, and relentless dedication to training, he has also gained enormous popularity. Salah has become as one of the game's most influential professionals and a favorite of bettors in the Middle Eastern region.
During the 2017-18 season, Salah played 87% of the possible league minutes for a striker in the Premier League. The No. 11 player for Liverpool has only missed three games due to injuries since he joined the team. More importantly, Salah's 118 goals are the most scored by any player in Premier League history, with Harry Kane being the only other player to surpass the century mark.
During his time so far at Liverpool, Salah has further cemented his status as national hero in Egypt. In addition to his prominence as a football player (21 goals in 37 games for Egypt), he has become a living symbol of Egyptian optimism throughout the country's economic crisis.
There are many excellent Arab players, but Liverpool manager Jürgen Klopp claims that " I don't think any of them can be compared to Salah." Even more, " Since he joined us he has been the perfect player - a top-class player."
A Role-model for Future Arab Generations

Mohamed Salah is sending a strong message to Arab youngsters throughout the world that they can be open and proud of their culture and heritage. He is one of the few truly relatable Egyptian football celebrities, as he is open about his religion and is even sometimes seen praying while on the pitch, but also proudly sports a traditional beard, both while being a member of one of the world's top football teams. He is an excellent example to follow.
Winning and scoring goals on the football field are only part of Salah's impressive resume. Over the past several years, Salah has become even more involved in the health sector in addition to his many other humanitarian concerns. Salah supplied Nagrig hospital with an adequate reserve of oxygen cylinders after an incident in January 2021 when six patients there died from Covid-19 because of a shortage of oxygen.
He has previously provided funding for a Nagrig ambulance service and a cancer center. Also, he spent €430,000 on land and donated it to the local government so that it might be used to construct a sewage treatment facility. Furthermore, Salah has reportedly given €235,000 to the state-run Tahya Masr fund to support different development projects, €30,000 to aid disadvantaged former footballers, and €10,000 to animal organizations.
Alongside these initiatives, Salah also works on anti-drug and anti-smoking efforts aimed at the Egyptian youth. As a talented football player, he inspires his whole country by demonstrating the importance of never giving up on one's aspirations.
When he's playing at his best, both on and outside the pitch, Mohamed Salah brings people together.