IZUNNA UZOCHUKWU Reveals Success Secrets
Published: August 07, 2012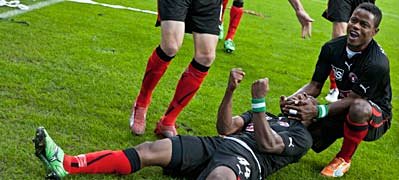 As the search continues for new stars of the Super Eagles,
allnigeriasoccer.com
caught up with FC Midtjylland of Denmark vastly improved and fast rising star, Izunna Arnest Uzochukwu (born 11 April, 1990), a very plausible candidate for Nigeria's holding midfield position, and he declared in a very emotional chat that he would love to play for the national tam pretty soon …
ANS: Let's start off from last year; how was it for you?
Izunna
: I am very grateful to God, because last year was very wonderful and successful for me. I was able to play regularly, although in my position of play on the field, it's very tough and competitive in my club. Thanks to God, I was able to be in the starting eleven always. I am very grateful to God and I am happy for that.
ANS: You say it was tough and competitive, so, how did you get your breakthrough?
Izunna
: I think it's all about hard work and being able to fully concentrate on the task and listen to what the coaching is saying. I also had to believe fully in myself and tell myself that I can do it. You know, just try and be yourself and do what you know how to do best. That's just how it came to be and I'm keeping it that way. I'm holding unto that and hoping it will keep me going this year also.
A
NS: We often hear that Nigerian players at Midtjylland are made to play defence, midfield and attack at intervals. Has that been the case with you as well?

Izunna:
It's a little different for me, because I have only played in the central midfield position. At the same time, I can also play the offensive role if I get the chance. For now, though, what I've been playing all through is the defensive midfield position in the team for the last two seasons, since I came up from the academy. That's just been the position I've been playing and it's been good for me so far. I've been very happy with that.
ANS: Generally speaking now, how have the past couple of months been with the club in the Danish League?
Izunna:
I think it was a generally good season for us. We have the youngest team in Denmark, a lot of youth players who came up from the academy. We only had four or five senior players in the starting eleven, with the rest being young players that graduated from the youth team. I think it has been very good for us so far, especially as we are still a team of young players
.

ANS: You are right about the youthfulness of your squad; in fact, many of those young players you talked about are Nigerians. Tell us about the others – Sylvester Igboun, Riliwan Hassan, Jude Nworuh …

Izunna:
They are all wonderful, hard working guys … always ready to give their best. They are always at alert and ready to go when they get the chance. That has always been our best asset. You know, when we get the chance, we always grab it.
So, when all of us from Nigeria are together, everything is wonderful and we are doing good as well. They are very talented players, which Nigerians should look forward to seeing more of from them very soon in the future.


ANS: At a point the previous season, Jude and Collins were not with you guys at Midtjylland; what was it like for you without them?

Izunna:
They are great players. That they were loaned out does not mean they are not great players. I believe the reasons why they were loaned might be due to some circumstances between them and the club. I don't know much about that, but they are good players and they can compete with anyone in their respective positions of play … nothing to doubt about them. Having them back in the team is a good asset for us and I hope that they will not be loaned again.


ANS: What are your personal targets for the new term?

Izunna:
My own target is to continue the way I've always been doing. I've always said to myself that I should never relent … it's not over until it's over. That has always been my motto. So, I'm looking forward to this being my biggest year in football. I just have to keep on doing my best, like I've always been doing.

ANS: … you didn't say anything about your national team targets … maybe Flying Eagles or Super Eagles?

Izunna:
I'm beyond the under-20s, but I have a dream of playing for the Super Eagles. I'm really looking forward to that and I'll be very happy to get a call. Anytime it comes, I will give God the glory …


ANS: With Stephen Keshi in charge, do you think your chances with the Eagles are better now than they were before?

Izunna:
Yeah, I'm thinking much about it and I'm looking forward to it. For now, though, I don't want to say much about it but, if I get a call and I get a chance, I will be very grateful to honour my country. It is the biggest dream for me, which I am looking forward to happen very soon. I always want to represent my country anytime, anywhere if I get the chance. I hope that chance will come very soon.


ANS: We pray that your dreams will come true …

Izunna:
Amen, amen … Thank you very much …


Sam O'Femi Fasetire