Official: SODIQ POPOOLA Pens Two - Year Deal With Metz
Published: September 05, 2012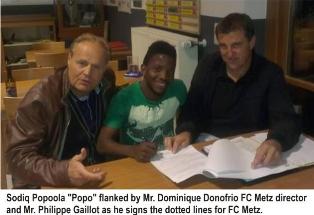 36 Lion FC is delighted to announce that FC Metz of France have signed their attacking midfield maestro Sodiq Popoola "Popo" to a 2 - year contract with an option for a further 4 years extension. He was the Fans Player of the Year last season, and
got invited by coach John Sam Obuh to the Nigeria's U20 national team.
Speaking after the deal was signed early enough to beat the closing of the European transfer window, officials of FC Metz have this to say about Sodiq "the signs are very positive, he has a very excellent first touch, an eye for a great pass and the movement of a legend. We hope he blossoms to become a true great and legendary player".
Sodiq Popoola "Popo" was born on 7th of August 1994, an MVP at the age of 15 under coach Henry Nwosu MON at the 2009 Dubai invitational tournament. He was also an MVP of the 2010 Chicago International Cup where 36 Lion U-17 Team sponsored by Governor Babatunde Raji Fashola were the champions. Popo is only 161CM but arguably the smartest attacking midfielder that will ever come out of Nigeria in this era.
Speaking on this deal the Chairman/CEO of 36 Lion FC Mr.Gafar Liameed said: ''We strongly believe FC METZ will be a good start for him in Europe and by the special grace of God, the solution to the attacking midfield challenge of our beloved Nigeria will be solved by this lion hearted genius. We wish you all the best in France and pray that 36 Lion FC produce more talent that will help in bringing Nigeria back to the highest level of world football and position Nigeria once again as a true giant both on and off the field of play''.
Also speaking on the latest development, the team manager Mr. Hasan Egilmez "the goal of 36 Lion fc is to develope players with the right temperament and attitude to fit into the big clubs in the major leagues of European football" he further said that "Nigeria has great talents and should be standing shoulder to with great countries like Brazil, Argentina, France, Holland, Belgium e.t.c" he said this is a step in the right direction and one of a lot more to happen.
After a superb season with 36 Lion FC in the Nigerian National League, with scouts of different European clubs coming at different times to watch our games after the explosive start of Ezekiel Imoh at Standard de Liege of Belgium, the management of the club hopes this will be the beginning of more open doors for players of 36 Lion FC to step on the big stage of world football.