Exclusive:Argentine coach,Rodolfo Zapata analyzes the Argentine team to face Nigeria
Published: May 31, 2010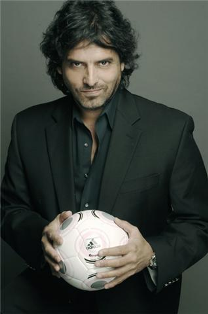 Rodolfo Zapata, former goalkeeper of Hurricane, and Cipolletti Sportivo Italiano, is proud to be the first Argentine footballer in Nigeria.Since January,he has been with Sunshine Stars FC of Akure in the professional league and also assists the State government in their youth development programme.We contacted him through his website,
www.rolozapata.com
and he responded to us in a timely manner.
He spoke to allnigeriasoccer.com on the Argentine team and the Super Eagles..It's an exclusive.
What is the mood right now in Argentina concerning the pairing of Argentina and Nigeria in the same group and the match on June 12?
Rodolfo Zapata:''The first game in any World Cup generates much excitement for both teams.The pressure is more on the Argentina team because the public expects much from them,to at least get to the final or even win the World Cup.Nigeria has a great history in football and there are so many demanding fans.
''My wish is to see a final game between Argentina and Nigeria,but unfortunately,both teams are going to the World Cup with organizational problems.
''I don't think the Nigeria team is well prepared for this tourney.The coach picked 44 players a month to the World cup.We all know there is little time to work with foreign players.Nigeria is going to the World Cup with so many individual players and not as a team.Talent wins games but teamwork wins tournaments.
''Lagerback ignored so many local players.I think players like Rabiu Baita (Wikki), Gabriel Reuben (Enyimba), Osas Idehen (Bayelsa United), Ahmed Musa (Kano Pillars), Afolabi Seun (Gateway), Ehison Ekigho (Wolves), Nonso Elias (Rangers), Sibi Gwar (Kwara), Terna Suswan (Lobi Stars), Abel Oluwashina (Sunshine), Amakiri George (Ocean Boys), ThankGod Ike (Heartland FC), Mutiu Adegoke (Dolphins), Chinedu Ezimorah (Enyimba), Uche Nwofor (Shooting Stars), Fengor Ogude (Wolves),deserve to be in the World Cup team.
''Add five or six foreign based players to the home based i'v mentioned,then there's a possibility of Nigeria winning the World Cup.''

Who are the Super Eagles players that the Argentine team plan to pay close attention to?
Rodolfo Zapata:''Nigerian players have always been known for their creativity with the ball.This differentiates them from other football playing nations.Mikel and Martins are very popular in Argentina and i believe Maradona is going to pay special attention to those two.''
Do you know of any weak points in the Nigerian team that Argentina hope to exploit?
Rodolfo Zapata:''After the last Nations Cup,everybody saw there was a problem with the Eagles defence.And the new coach has to correct that.But like Nigeria,there is no teamwork in the Argentine team,they depend so much on individuals.

Do you think Messi is stoppable and how?
Rodolfo Zapata:''There are two different Messis'.One plays for Barcelona with excellent people around him like Xavi,Iniesta,Ibrahimovic and Alves.A totally different Messi plays for the Argentine team and they are not happy with him.But he is a great player.He does not complicate dribbles like Ronaldo or Ronaldinho.His goal is always to dribble the opponent in the simplest way.If you have players with good anticipation,you'll predict his moves.To stop Messi,you must not allow him touch the ball before you.
''Nigeria must find the right players to man mark Messi,specialist players and you should rotate them incase one picks up a booking.The Eagles should also be wary of committing silly fouls close to the eighteen yard box.''
What formation is Argentina going to play against Nigeria?
Rodolfo Zapata:''Maradona respects the Super Eagles.They are going to play a 4-4-2 formation.The goalkeeper,Romero is very inexperienced.Four flat central defenders-Otamendi (Velez) or Burdisso (Roma), Demichelis (Bayern Munich), Samuel (Inter) and Heinze (Marseille).Four midfielders,Jonas Gutierrez (Newcastle), Mascherano (Liverpool), Juan Sebastian Veron (Estudiantes) and Angel Di Maria (Benfica).The attackers are Messi and Higuain.There's a pretty good chance that Tevez and Milito are brought into the game in the second half.
''The central defenders,Demichelis and Samuel, are not skillful going foward.Otamedi and Heinze are also not good facing skillful players.In the midfield,Gutierrez is another rookie.But you can't say that for the established midfielders like Veron and Mascherano who has a very good reputation in England.Di Maria is a good player when he's with the ball.Without the ball,he's not disciplined.That means Chidi Odiah and the Nigeria right winger are going to have very good opportunities to cut open the Argentine defence with Heinze and Di Maria on the left side of the pitch.''

Is Maradona really going to stand naked if he wins the World Cup?
Rodolfo Zapata:''It was a wrong phrase used by Maradona....but with Maradona,you can never tell!''
How far can the Nigeria team go in the World Cup?
Rodolfo Zapata:''Certainly Argentina and Nigeria will qualify for the next round.I even tip them to qualify for the quarter finals because Mexico,Uruguay and France are no match for the Super Eagles.Their qualification would be based on the individual skills of the players and not that they are a team.''
Are you enjoying your stay in Nigeria?
Rodolfo Zapata:''I am very proud and honored to be in your country.The people embraced me.Nigerians are happy,educated and disciplined people.''

How did you get the job with Sunshine Stars and the State Government?
Rodolfo Zapata:Mr. Mike Idoko and Dapo Oluwo believed in my abilities as a coach. Their support is really important to me.There are so many amazing players in Sunshine FC and hopefully i see us winning the League next season.''

Nice talking to you
Rodolfo Zapata:You are always welcome and a pleasure talking to you as well.