ODIAH must take advantage of De Maria - ZAPATA
Published: June 11, 2010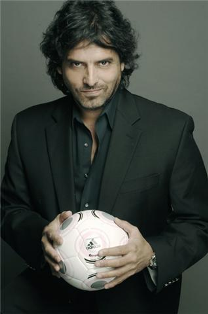 The Super Eagles meet
La Seleccion
in an explosive match tomorrow at Coca-Cola Park, Johannesburg.The Argentine coach of Sunshine stars,Rodolfo Zapata is offering his final advice to Team Nigeria ahead of the clash.
''La Seleccion plan to attack from the kick-off.They know Nigeria's plan is to clog the midfield and counter attack using their fast players.But the first goal will change the outcome of the game.It is going to be crucial.If Argentina get that breakthrough goal,then the Eagles have no choice than to come out of their nest.Then the Argentines hope to finish them off with more goals as the game will be more open.It is going to be the opposite if Nigeria can nick a first goal.Argentina will push more up field and the Eagles will use their pacy players to counter attack and score more goals.
''Nigeria showed defensive frailties in the last couple of test games and at the Nations Cup.Yobo and Shittu were uncoordinated in their movements on and off the ball.Messi, Tevez and Higuain will try to exploit this flaw.
''Odiah and Taiwo must close the flanks and attack together when Nigeria is in control of the ball.Odiah should take advantage of De Maria in the Argentine attack.De Maria,the Benfica player is a good offensive player but there are question marks on his defensive abilities.
''Maradona may have decided to play with three flat defenders(Demichellis, Samuel and Heinze).All of them are good players i must say,but they are used to playing in a different way for their clubs(Bayern Munich,Inter and Marseille).A World Cup is not the best time to improvise and i think that's what the two teams are doing.''
Zapata insists no special role will be given to Messi: ''There is no doubt he's an excellent player but he's not played the same way for Argentina as he does for Barcelona.He plays so well for Barca because he has teammates who support him.He does not have that luxury for Argentina.''
''Argentina use zonal marking so players like Osaze and Yakubu won't be man marked.I expect to see players like Aguero,Palermo and Milito in the second half of the game especially if the Argentines are chasing a goal.'' Zapata concluded.
''