Argentina has an obligation to win the World Cup - ZAPATA
Published: June 19, 2010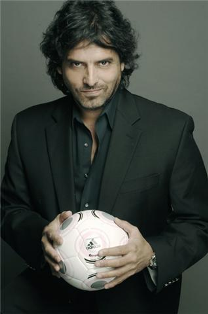 As people everywhere have their eyes glued to their TV sets so as to not miss a moment of the 2010 World Cup being held in South Africa, Argentine coach Rodolfo Zapata, who currently coaches a Nigerian Premier League football team, spoke with
BuenosAiresHerald.com
about Africans' expectations regarding the tournament and how, aside from all the global cultural differences, the sport is considered a way of life. Also, following Maradona's team closely, Zapata assured that "Argentina has the obligation of winning the World Cup."
How are the African people living the World Cup?
Africans have many expectations. For the first time, the World Cup is being held on their continent, and they believe this will be their only opportunity in history to crown an African team as world champions. This is why all African countries are united. They are going to celebrate in the same way if either Ghana, Nigeria, or Cameroon win the tournament.
How is football perceived in Africa?
As in Argentina, football is also a cultural event in Africa. People feel identified with it. They see this World Cup as a party and they demonstrate it all the time, you can see them with their non-stop vuvuzelas. Football is a way of life, and beyond the techniques and strategies, players have an enormous affective commitment with fans, which simply hopes to receive joy from their stars.
Is there any relationship between a people's way of life and how they play football?
I always say that people live how they play and play how they live. For example, that enviable joy Brazilians have during their carnivals is transmitted onto the field when they play. Italy and Germany, however, are peoples that have suffered wars, and they passed all their tough and suffering history onto the game by working tactically and being cautious with their strategies and the results obtained.
In Argentina, there are two songs that loyally represent our team: "La Argentinidad al Palo" and "Lo atamo' con Alambre." We could be the best, or the most hated ones, and fix all of our problems with a "wire, or scotch-tape." Likewise, in Asia, everyone runs or rides bicycles throughout the streets of Beijing, Tokyo, or Seoul. The same happens with their teams when on the field. In the United States they always say "time is money." Life to them is a business and they take that philosophy to their Major League Soccer (MLS) and their national team. Football is a boring process, but sometimes, it can be a good business, but many times it just isn't. In the United States, they sell shirts that read "Soccer is Life," and may be without realizing it; they are explaining in few words a great truth: football represents, in each match, life itself. During a match, we go through joy, sadness, justice, unfairness moments, good and bad players, etc. The only difference is that in life, there is no second half.
There is only one life and we must enjoy it, which is why I always tell my players that one has to live and play with all one has. I always invite my players to take risks and try impossible plays. I don't want, nor do I believe in moral victories. It's not my nature. No one should be proud to lose, although one should be proud of the effort made to try to achieve a victory.
How does football in Africa differ from that in the rest of the world?
There is great human and football potential on this continent. It is a completely different race than ours. They have different habits and ambitions, a different way of life. They are a happy people and they make it with very little.
African football is a truly represents their race. Despite the lack of resources, they are a joyful, fun, respectful, and educated people, but with a high level of disorganization in all aspects. Football transmits that in a reliable way: they play pretty, which isn't the same as playing well. In this World Cup, they have nothing to lose, but much to win.
The African player is known for his speed and fine technique, but he is tactically disorganized. I, particularly, have a very difficult time with regards to the tactical aspect during the Sunshine Stars FC practices. I even have to re-organize them constantly during League matches. When they're have the possession of the ball they're fast and know what to do, but when they lose the ball, they get easily distracted and make naïve mistakes. It's precisely their tactical indifference that makes it really hard for them to recover the ball later on. However, the complete opposite will happen if they're having a good day. Physically speaking, they have been blessed by Mother Nature, while their individual technique has made them stand out worldwide.
What would you advise the Argentine team?
Argentines should not fall into the idea of just being one more team participating in the World Cup. We have a long football history to defend and a prestige that goes along with it. We all want to win; I don't know anyone who competes and wants to lose, but our goals are not the same as those of South Africa just to give an example. The host team is happy by simply be able to participate and organize this world's party, and if they move forward into the second round, even better!
Argentina has the obligation of becoming world champions or at least of making all the way to the big finale. We have a compromise with Argentine football history, with the "Albiceleste" (light-blue and white), and with a crazy-for-football people that hope to receive joy from their stars.