The Top Online Football Games To Play Right Now
Published: August 01, 2017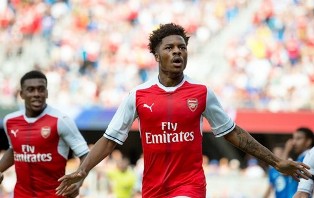 It's overwhelming how many online football games there are to choose from, which is why we've compiled a list of the best ones.
You play football on your
Xbox
or Wii, but are you aware of all the brilliant football games that you can access on your web browser right now?
With gamers increasingly spending time on their desktop and mobile browsers, the gaming world has been forced to adapt.
And that's some great news for all you football fans out there because today, there are some really amazing football games just clicks away.
Online football games now cover everything from Olympic football to the
Fifa World Cup
Even more brilliant, if you get excited about winning big, there are plenty of sites that give you a winning chance at
playing online slot games about football.

Superstar Football
This game is extremely addictive and allows you to pick and create a team from the bottom up, pick up better players as you advance, and utilize easy-to-use controls.
Unique features include changing weather, a large variety of fields to play on, and updated plays.
The graphics are enjoyable and the game moves fast. We recommend Superstar Football if you're after a game that's both entertaining and jam-packed with excitement.
Football Rules
Just watched a
crazy football match
? Keep the excitement going by playing this football-themed slot game.
This 5 reel, 25 payline football slot game even gives you the opportunity to win big by winning the Dollar Ball progressive jackpot. That's a win you won't forget.
This is how you can win the jackpot: Simply click the 'Enable' button right below the Dollar Ball jackpot sign, choose 5 numbers, and then press Activate.
When you start a round of the game, the drawn number will appear right above the number you picked. If the numbers match, the amount you won will appear. You win the jackpot when both of the numbers match up.
World Football Stars
This is another football slot game you should definitely try. The graphics are incredibly realistic and many of the features are unique to the game.
The game begins with football players choosing the clubs that will play each other and then portrays renders graphics of the top starts in those clubs.
One brilliant feature we like is the Pass the Ball Bonus. This feature is activated when the ball is placed on the second reel along with a left team member on the first, or on the fourth reel when a right team member is on the fifth reel.     
New Star Soccer
This game is highly addictive and a great game for when you're on the go. The graphics aren't amazing, but the game is really challenging.
The game allows you to score from a big variety of angles and you need to be clever to score consistently. The game goes up in difficulty as you go.
At times you'll need to hit a goal from far out, over a few different defenders, and in arduous conditions.  
Conclusion
The football games available online today are often high-quality and in many ways we're living in the golden age of online gaming. However, to find the best ones, you still need to do your research.
We wrote this to give you an edge by including 4 different games that are worth trying out. Our question for you is: Which online football games do you play?
Ifeanyi Emmanuel
Photo Credit : arsenal.com