League Management Company: Toothless Bulldog That Can Bark But Can't Bite
Published: December 28, 2017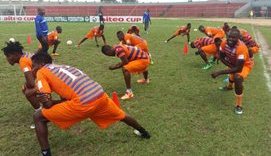 When the League management company came on board, news emanated that the birth of the body was to prevent the almost total collapse of the Nigerian Premier League (NPL) which was plagued by legal , 'contractual', administrative and financial impediments.
Introducing a corporate governance culture which will guide its internal management style and coordinate the smooth running of the league and strengthen the developmental process of young footballers who will feed into the professional teams among others were stated among the visions of the LMC.
After the incorporation of the LMC under the leadership of Nduka Irabor and later Mallam Shehu Dikko, in its quest to restructure the league, its first task was to systematically navigate the legal minefield left by the NPL to enable the clubs play football again after series of court cases, a feat which was achieved.
A new legal framework followed negotiations of contract as  as broadcast rights contracts, both of which were adjudged as veritable sources of robust income for participating clubs in the league, but unfortunately has seen its true value eroded by poor business judgement calls
One of the ill winds that blows the league no good in recent past was club's failure to conform with contracts of players and coaches therefore serially owes players and coaches salaries, bonuses and incentives.
Having reviewed the Article B9.45 of the framework and rules of the LMC which states that the terms of a contract between a club and a player shall strictly be adhered to, and where a club fails to pay remuneration or entitlements due to players for a period of more than sixty days, such club shall be liable to a deduction of a maximum of six points and a further thirty days for which the remuneration or entitlements remain unpaid.
Despite the detailed article in the framework which stipulates that owing players is a punishable offence, the LMC has failed to enforce the laws they made .
Players of Sunshine stars of Akure, Shooting Stars of Ibadan, Warri Wolves and most recently Rivers united just to mention a few protested non payments of salaries bitterly, these clubs went as far as marching to their respective government houses to express their dissatisfaction.
Safe to say it beats my imagination that the LMC has continuously failed to enforce the rules guiding the leagues as stated in the Framework, players, who are the actors on the field lament profusely for not receiving their pays, thereby leading to been unable to perform their primary functions as breadwinners of their families.
Won't you rather want to say the naive and act of cowardice of the LMC is the reason Jesus wept ? Isn't it rather unfortunate that a body that came with a lot of promises in that ramification has failed to deliver? It is not out of place if I choose to agree with people on the street that some administrators and individuals are bigger than our League.
A player, Ojo Mine was evicted from his apartment just because he could not pay up his rent, in the course of my research, I got to know that his intermediary, Endurance Iseri Ogbemudia  had written to the LMC in respect of Mine and Stanley Dimgba who are his clients with sunshine stars of Akure.
On getting to know that Mine is being owed two million, eight hundred and twenty thousand naira by Sunshine stars, tears rolled down my cheek, Mine would have successfully paid his bills and even be buoyant to perform his duties as a father to his children, husband to his wife and son to his parents, though the LMC assisted Mine with the sum of five hundred thousand naira which would be refunded as soon as he gets his pay from Sunshine stars, but that was the last we heard as regards the pursuit of contractual justice.
While it is worthy of mention that the Shehu Dikko led body has done more good to the league, it is definitely not out of place to say it has failed in flying colours in major areas.
There was a complaint from the NFF licensed intermediary as regards the inhuman and unjust treatment handed to his clients Stanley Dimgba and Ojo Mine by Sunshine stars for refusing to pay them money totalling about six million naira.
The complaints letter dated December 28 2016 was not acknowledged until January 13 2017 by the league governing body, in LMC's response, it was clearly stated that an inquiry has commenced and Ogbemudia will be kept abreast.
Laudably, the LMC wrote a letter to Sunshine stars  to that effect, the club sent a letter in response but failed to comply.
Despite stating clearly that the money will be deducted from any distribution due to sunshine stars except the case is settled before then.
Months after the empty threat, LMC compromised as usual, no action was taken against the club and the party that should be at the receiving end is happy at benefiting from LMC's incompetence, as the toothless bulldog has barked again but as expected will not bite.
Ojo Mine is wailing daily, Stanley Dimgba is lamenting profusely, and to make matters worse, the intermediary sent quite a number of mails to the LMC, but has gotten no response till date.
Some cases are worse actually, makes one conclude that the body that should save the League has refused to be firm, players are lamenting, coaches can't speak up as they might be Sacked for revealing how they have been suffering and smiling.
Bayo Adegboyega