Nigeria U17 Pre-match Assistant Coach & Bournemouth GK : Every Word On Uganda Team, Golden Eaglets Strategies, Converting Chances & More
Published: April 19, 2019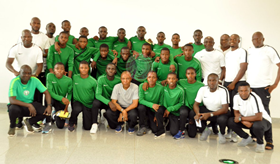 Nigeria U17s assistant coach Jolomi Atume and Bournemouth U16 goalkeeper Joseph Oluwabsuola attended the mandatory pre-match press conference on Friday ahead of tomorrow's crucial Group A match against Uganda at the Chamazi Stadium, Mbagala.
They were asked questions about the Uganda team, Golden Eaglets strategies for the game and their failure to convert several of their chances against Tanzania and Angola.

Here's what they told the media present :

How are you looking forward to the match tomorrow?

JA : ''Okay thank you. This game tomorrow is crucial for us because we need the three points and to be on top of the group''.

Joseph Oluwabosla, you are one of the key players in the team, what is the mood in the camp. A lot of stories have been written in Nigeria. One story is that that you've qualified, the next is you have not qualified for the World Cup, how does this affect you going into the crucial match against Uganda?

JO : ''We treat every game as a final, that's how we approach every game, we want to win. There's no pressure, nothing around us is making us feel like we don't want to go out there to get three points.

''We are going into that match to top the group and go into the semifinal, play good football.''

Coach, you saw Uganda in their previous game against Angola, what do you think is their strength and what are your strategies?

JA: ''We have watched them, two games. We understand they press high, we will not give them that room to press us high. We will strategize that by the end of the day the three points is ours.''

You lost a couple of chances against Angola, what went wrong. Will you show your attacking prowess tomorrow?

JA : ''Yes for sure. These are things you expect from youths, young players you must expect it from them.

''We know we have gone to our drawing board, call them together, talk to them, correct their lapses. God willing, our goals will come.''

For the player. Uganda their attack is good and they are physically good. You think you are good physically and tactically to beat them?

JO : ''Yes, tactically and physically we are sound. We are ready for them, we know that they like to press high, play on the front foot.

''We also know they are clinical, as my coach has said we won't give them time and space to play.

''In attack, we are thinking of how we can convert our chances and I think tomorrow it will show that we've improved from our last match.

''We are ready to take on Uganda and ready to show the world that we are one of the best teams in the world, if not the best team in the world''.

How you managed to go out on the pitch in the last game against Angola, coming from the four goals you conceded against Tanzania. How do you intend to play so you don't concede a goal against Uganda?

JO: ''Defensively we were much better against Angola than against Tanzania. Again that shows that we prepared well and we've managed to improve that, the defensive aspect.

''This game against Uganda, again we are going to have to be aggressive, be on the front foot. I think that we prepared very well and we should be able to get three points.
''The main focus is the attacking aspect of the game because obviously we have not converted many chances as we would have liked, so tomorrow we'll definitely look to create even more chances and covert as many as possible''.

The group looks open, you think possibly you can get a comfortable victory to get out of the group with three teams competing.

JA : ''We need to win convincingly because we don't want to be doing permutations.

''As my player told you before we are five-time world champions and we know what it takes to be a champion.

''We must put everything in every game and as he told you every game is like a cup final for us, so this Uganda game is like a cup final to us, we must win convincingly to be in the next round.

''The players know what it takes because we've been telling them from day one that we must win every game to be a champion, so we must win tomorrow.''

Ifeanyi Emmanuel