Football Predictions
Published: December 20, 2019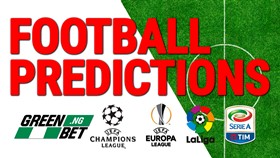 Football predictions need good and experienced individuals to analyze and predict football games to have better chance to win.
If you are new to the football betting system then you need to carefully watch the games and not rely on luck as a small team can perform wonders at the least expected time.
When predicting football you need to analyze the statistics, work on the odds to make it favour you. Let's quickly take a look at some certain factors to consider during football prediction.

Betting predictions on site Greenbet.ng
Sometime you might find it hard to go through all the hassle of predicting the outcome of a football game and also working on your odds, there is a solution to that even if you are new to sports betting prediction or you have been struggling to properly predict a football match, you can register at
greenbet.ng
and let the professionals give you premium football prediction.  
Do not seat back and watch while others get the right predictions on the greenbet platform; take action now as you are just a click away from getting the best out of sport prediction on greenbet.ng .

Home ground advantage
When predicting football, home advantage is a major factor to consider, statistic always assumes that teams with home advantage perform better.
This is always shown in the statistics on sports book, so it will be a good factor to leverage on when working on your odds.

Ball possession
The more shots a team takes the better chance they will have to consider a goal, when analyzing the game statistic make sure you carefully look at the ball possession level of both teams, the team that has the highest ball possession level will have the better chance to strike a short which might lead to a goal.

Previous match performance
Taking a look at the previous match of a team is a good idea to predict the outcome of the next game, make sure you analyze how each given team played their previous match, check the goal differential as it will give you valuable data to predict any football game.

Team roaster
Some bettors just go ahead to place bets without knowing who is in the team roaster. Knowing the players in the roaster is also a good way to determine the outcome of a football match, so checking the team roaster will help you get good information on each player which will give a snippet of the game possible outcome.
Check if the players are top rated players or they are just some newbies that are just starting out their football career.  
Do not underestimate the ability of new players in the team as the can also change the outcome of the game positively.

Team Unity
It is one thing to get a team together it's another thing to know if they are actually a team, accessing the unity of a team is very important when it comes to predicting the outcome of a football match.
Take your time to view the team previous match to see the unity during a game, try to observe how they make passes and general coordination during a game will help you during prediction.
Ifeanyi Emmanuel