Buhari: Nigerian football needs a 10-yr plan to rival Europe
Published: July 23, 2021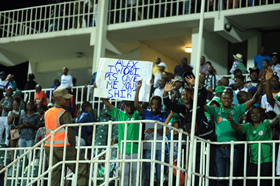 President Muhammadu Buhari believes a better organization will give Nigeria football the best edge against rivals across the globe.
He instructed the Ministry of Sports and Nigerian Football Federation to develop a 10-year game plan for their national football.
According to him, what Nigeria football needs is to maximize grassroots football as well as establish a privatized institution to effectively compete against America and Europe.
To accomplish this, Nigeria can use the growing sports betting industry as one potential revenue source.
The rise of football betting
Football is the most popular sport in Nigeria. Alongside it is the rising reputation of sports betting in the country. Another driving force is the increase in the use of the internet and cell phones.
What is Sports Betting?
It is placing bets on the most likely outcome in any sporting event. But how does it differ from daily gambling? The profit comes in regardless of the game result. How large the profit depends on how well one understands the chosen sport, teams, numbers, and markets.
Here's how sports betting works in football:
Let's use the Nigeria vs. Lesotho football match at the last 2021 AFCONQ as an example. Nigeria won against Lesotho by 3-0. We can assume that Nigeria is the stronger team, wherein the odds of their next game may go like this:
                                                      Nigeria Win = 1.73
                                                         Draw = 3.84
                                                      Lesotho Win = 5.14
These odds will determine how much the profit will be. In the case that the bet is worth €100, the return will amount to:
                                                                   Nigeria Win = €73
                                                                       Draw = €248
                                                                   Lesotho Win = €414
Football betting: the 1x2 market
The figures above are an example of
Betting 1x2
- the most commonly used method in football betting. This is a three-way wager that refers to betting a home win, draw, or away win.
One of the useful 1x2 betting tips is combining two potential outcomes (double chance bet or betting both teams to win) to secure earnings despite the result.
Other types of sports betting are Handicap betting, Totals or Over/Under betting, Proposition Bets, and Point Spread. Regardless of the method, knowing the real-time
football betting odds
makes the biggest difference.
Licensed sports trading platforms offer a brokerage service where it studies different factors to give the best odds. Most have a low minimum deposit, various payment methods, and diverse sportsbooks available for premium tradings.
As a start, the majority of betting exchanges offer free bets and football tips to new punters.
How many people are betting?
According to Nigeria Sports Betting Sector Report 2019/2020, almost $2 billion are spent on sports trading daily.

The most active are Nigerians between the ages of 18 to 40 years. Data also shows a 9% increase in the number of people betting since 2017.
With proper regulations, sports betting can be an alternative revenue source.  As more firms are built, an increase in Nigeria's GDP growth is to be expected. In return, the development will provide sports betting brokers with more licensed and regulated betting exchanges as well as higher security as they trade.
Latest News