How to Bet On Soccer – The Ultimate Guide
Published: July 27, 2021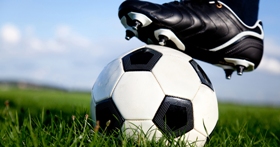 Soccer is the most famous sport among sports bettors and fans. If you're not aware of how football betting works, this guide will teach you the basics and all vital things about it.

However, it's important to know that soccer betting is a risky, fun activity that can lead to losses.

Therefore, we advocate for responsible betting using the strategies in this article to reduce the risks and enhance your winning chances.
What are the betting options in soccer?
Because soccer is the most popular sport globally, punters can expect a wide variety of betting options and odds. If you're a soccer fan, you have many betting options.
The betting odds
If you're a new soccer punter, it's important to understand the betting odds in football. Punters will notice betting odds that appear in decimal representation.

For instance, when you wager $10 on odds of 1.6, you'll receive $16 when you win. It means you win $10 plus a $6 profit. If you lose, you'll lose the $10 stake.
What are the different bets types?
There are
different types of bets
in soccer betting. Every type is different from the other. Punters need to understand the type that suits them best.
1X2 wagers: It's where you bet on the full-time results of a game. These are three possible outcomes – Home team win, Draw, and Away team win. The results are determined within 90 minutes. If the game goes to extra time, the result you predicted will be used in the first 90 minutes. To get an edge in this type of bet, consider the H2H of the opponents.
The first team to score – You predict which team will score first. When placing such a bet, one tip is choosing a strong team playing against a weak opponent at home.
Over/Under Wagers – In this bet type, you wager on the number of goals in a soccer game. For instance, you can wager on odds of Over 2.5, meaning you think the game will see more than three goals.
HT/FT Bets – This type of bet is similar to the 1X2 wagers. However, it would be best if you considered the first half and full-time results.
Handicap betting: Such types of bets might be complicated for beginners, but they're fun. They're similar to 1X2 bets, but the betting site gives one team a handicap.

Where can you bet on soccer?

Soccer is a very famous sport, and almost every sportsbook offers soccer betting. However, the available games depend. If you want to bet on domestic and local games, choose a bookmaker that operates in your area. Online betting can be your best option if you're going to bet safe and big.
Betking Nigeria
is one of those gambling sites you can trust.
Tips for successful football betting
Choose the best odds
: If punters get betting odds that are bigger than the possible result, punters can enhance their winning chances. Those who're able to select the best odds can be guaranteed to win.
Bankroll management: When betting on soccer, you need to learn how to manage your finances. Don't bet on money meant to pay bills. Have a limit and stick to it. Whether you're winning or on a losing streak, don't change your strategy.
Proper Research: Apart from being able to choose the best odds, you should have some skills. When wagering on football, do appropriate research on matches, games, ground, players, injuries, teams, tournaments, news, etc.
Avoid getting emotional: Always be real when betting on football. Don't bet on a soccer game because you like a player or team. It's wise to fact-check and bet accordingly.
Please create an account with multiple betting sites
: Most bookmakers allow punters to join without charging them any fee. So it's wise to open an account with different providers and compare them.